.......................................................................................................................................................

.....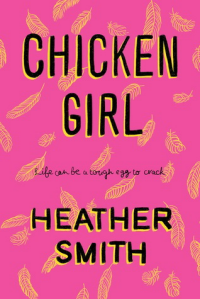 Title:
Chicken Girl
Author: Heather Smith
Genres: Young Adult, Contemporary, LGBTQIA+
Pages: 240
Pub Date: March 5, 2019
Publisher: Penguin Teen
Book Source:
purchased
My Rating: 4 of 5 stars
Synopsis: Poppy used to be an optimist. But after a photo of her dressed as Rosie the Riveter is mocked online, she's having trouble seeing the good in the world. As a result, Poppy trades her beloved vintage clothes for a feathered chicken costume and accepts a job as an anonymous sign waver outside a restaurant. There, Poppy meets six-year-old girl Miracle, who helps Poppy see beyond her own pain, opening her eyes to the people around her: Cam, her twin brother, who is adjusting to life as an openly gay teen; Buck, a charming photographer with a cute British accent and a not-so-cute mean-streak; and Lewis a teen caring for an ailing parent, while struggling to reach the final stages of his gender transition. As the summer unfolds, Poppy stops glorifying the past and starts focusing on the present. But just as she comes to terms with the fact that there is good and bad in everyone, she is tested by a deep betrayal.

...................................................................................................................................................................................
*** POSSIBLE SPOILERS ***
Chicken Girl is the story of Poppy—a teen working at a summer job dressed as the chicken mascot for a local restaurant. Poppy used to be confident and love her body. She even participated in roller derby and was really good at it, but that was until a photo of her dressed as Rosie the Riveter made it's way onto an online forum called "I see fat people" and was edited and mocked. Now she is more withdrawn, spends more time alone, and tries to hide herself inside her chicken suit. This is until a strange group of people come into her life, starting with 6-year-old Miracle.

Miracle is where the mismatched cast of characters comes in. Miracle is six years old, yet she hangs out with teens and adults alike. Her mother is a prostitute and they live in a very tiny, very crappy home. Miracle spends her days hanging out under a bridge with the homeless and troubled people of the city. Poppy is basically led to this ragtag group via Miracle. We also have Lewis, a female-to-male transgender teen who is saving up for bottom surgery while he also takes care of a dying relative all on his own. Then there is Buck... oh gosh, he is such a dickhead. The guy is supposed to be charming at first, but I found him irritating from the get-go, and he only gets worse as the story goes on. He's mean, gets drunk and then makes fun of his friends and puts them down at every turn, Poppy included. And she is supposed to be his girlfriend. This book lost a star for that. While Buck did do some redemptive things, he was still a shitty person overall, in my opinion. The book involves a twist when it comes to Buck, and it did knock me for a loop and add an interesting element to the story. Still didn't like the guy though. Other interesting characters include an ex-gang member with a racist past, a drag queen with a mental illness (I don't think the author said what it was, unless I missed it), and Poppy's cranky Chinese boss at the chicken joint.

Poppy also has a twin brother named Cam. He's newly out of the closet and is quite flamboyant. This is a struggle for Poppy as she believes he is only trying to fit into a sort of gay stereotype. The two teens are very close and it shows with their banter as well as their concern for each other and what they each deal with throughout the story's progression. Their bantering wordplay with each other brings a much needed lightness and vein of humor to an otherwise quite serious story.

This book covers quite an array of relevant topics. Feminism, at it's core, as well as sexual assault, queer issues, racism, the homeless population, being a plus sized person and being comfortable with that, the cons of drinking or taking drugs, as well as family issues and the possibility of CPS taking a child out of the home.

Overall, this book really highlights personal growth. Poppy and those closest to her are all coming to terms with their respective struggles and learning how to become better, how to overcome and still be on top. It's a story of acceptance and standing up for yourself; about making a place for yourself in the world and embracing your quirks and differences. I loved the characters (aside from Buck, ew) and I think they all made so much progress throughout such a short book (at 240 pages). I definitely recommend it! Do keep in mind that it does contain some more adult themes such as sex work, sexual assault, and drug use.