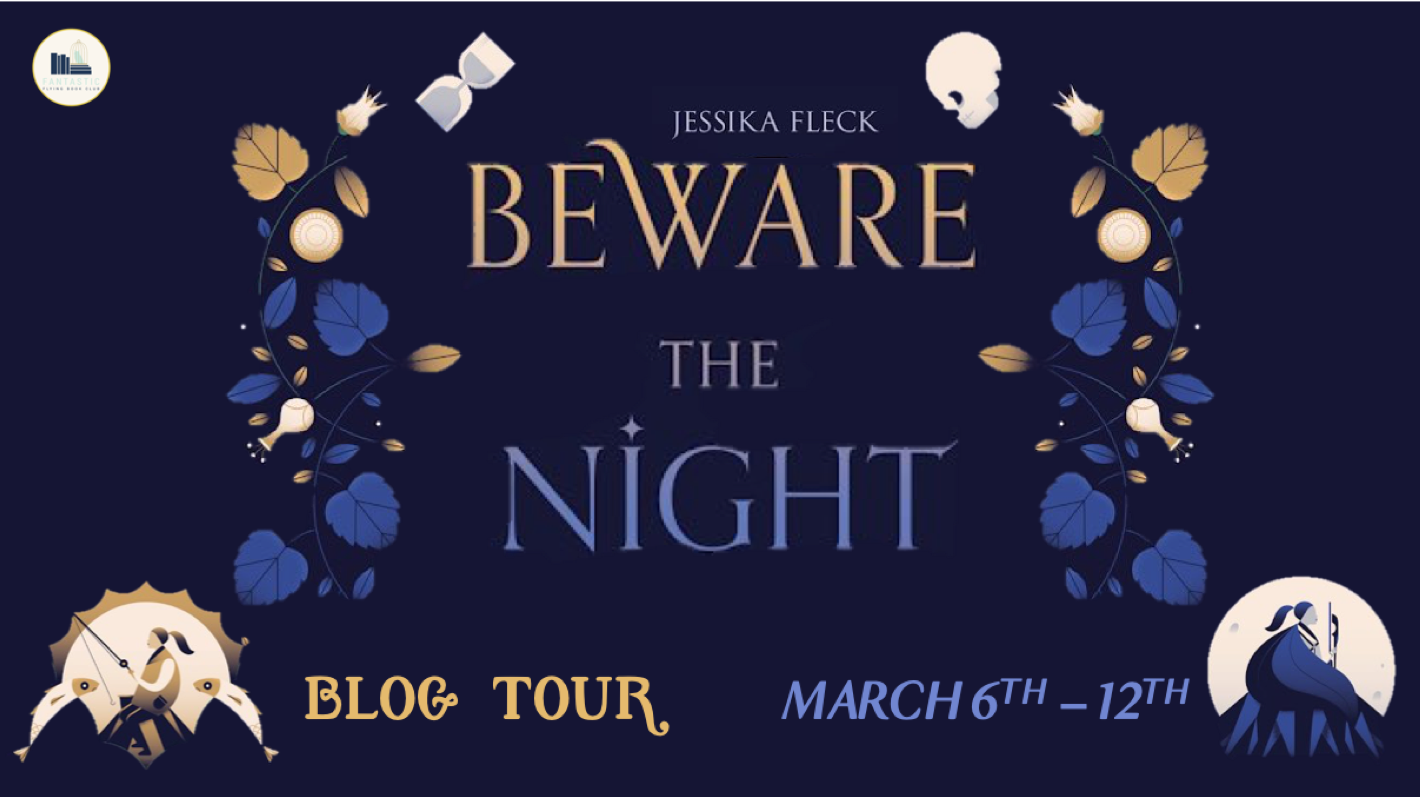 ..........................................................................................................................................................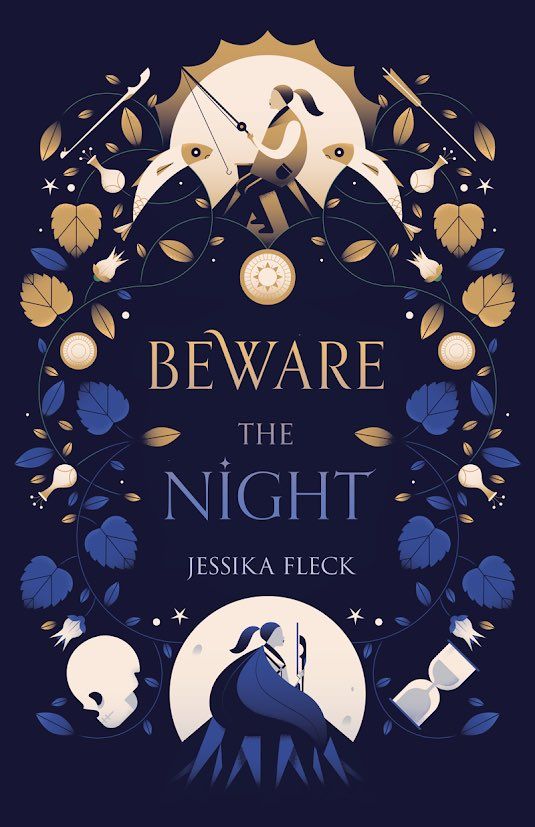 Beware the Night
by Jessika Fleck
When her world divides, pitting light against dark, Veda must join a dangerous revolution to save her grandfather and fight against injustice...even if it costs her the boy she loves.
On the island of Bellona, life is peaceful--as long as the citizens dutifully worship the Sun, which protects them from all harm. Seventeen-year-old Veda knows that keeping the Sun happy will protect her and her grandfather from the Night, the dangerous people who snatch innocent citizens from their beds under the cover of darkness, never to be seen again. As long as Veda follows the rules, she will be safe.
But when Veda's grandfather is offered up as the next sacrificial offering to keep the Sun's favor, she starts to see that the safety she's been promised comes at a dangerous price. Maybe there is more to fear above than there is below.
With a mysterious young man, Dorian, at her side, Veda has to figure out if the scary bedtime stories she grew up hearing are real--or dangerous lies.
* * *
•
Genres:
Young Adult, Fantasy
•
Publisher:
Swoon Reads
•
Pub Date:
March 12, 2019
• Add the book on Goodreads!
•
Purchase:
Amazon / B&N / Kobo / TBD / IndieBound
..........................................................................................................................................................

SOME FAVORITE SCENES FROM BEWARE THE NIGHT
Hi Literary Meanderings! I'm so thrilled to be here. Thanks so much for being a stop on the Beware the Night blog tour!
I'm super excited to share a handful of my favorite scenes from Beware the Night!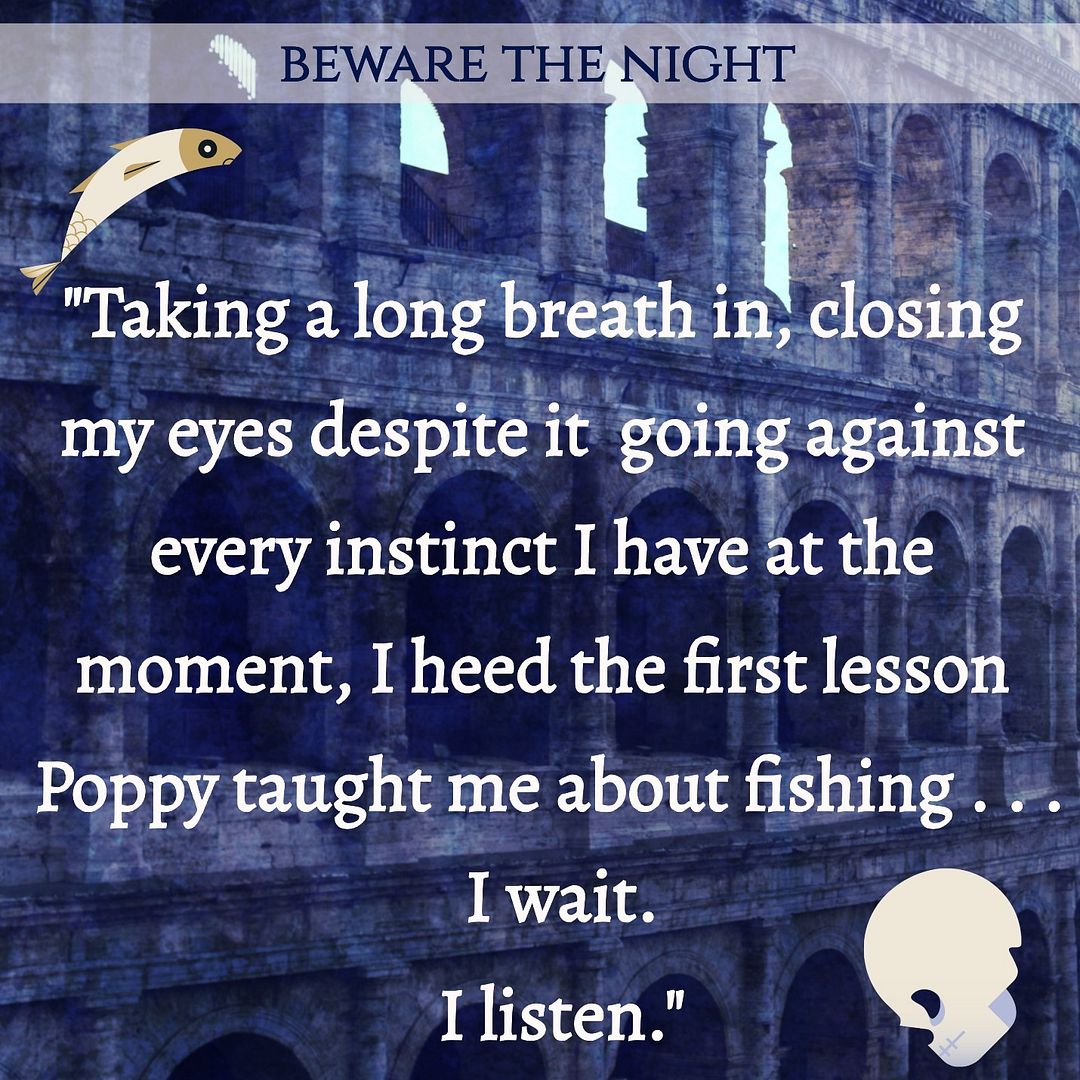 This first scene is Veda breaking the law to get the best bait she can for fishing. It's creepy and eerie and I love it:
"The icy hand of early morning slaps my face the instant I step outside. I gasp and then force an exhale that leaves gray clouds hovering on the other side of my lips. It's dark. It's freezing. I'm breaking the law.
Quickly, quietly, I make my way from shadow to shadow toward the woods. My face stings with numbness, my nose already tingling, but I ignore it. I've gotten used to that, ignoring discomfort, because there's always something more important. This morning, it's bait.
The one bait I'll ever admit trumps the worms I sell at the market. The worms do fine, but the fish are tired of them, fewer and fewer biting with each passing day. And who are they to be so picky? It's a free meal after all. But Poppy and I need to eat too. And right now, our hunger trumps stinkin' finicky fish. It also trumps the law.
Not only am I out before the Sun, but I'm headed to the Hill, the Dogio side of the island. The side Basso folk like me aren't supposed to wander. If we're found near the Hill it can only mean one of two things in the eyes of the law. We're either stealing or looking to steal. No one gets lost on this island; it's too small. No one walks around after dark; it's too dangerous. If I'm caught by an Imperi guard, I have no excuse. If I'm caught by the Night, I die.
A branch snaps in the distance and I skid to a stop, hiding behind a tree. For a moment I question everything. Can Poppy and I continue living on scraps if I don't catch any fish today? The cellar is emptier than ever. Even the mice have moved on. But is this truly worth it? My stomach grumbles in answer.
A plump mud beetle will assure me at least one decent catch.
As I keep to the edge of the woods, steering clear of any lamplight or main walkways, I can't ignore the crudely posted signs. Paint on parchment. Some of it still fresh and sticky.
Names . . . Photos . . . More and more Basso have gone missing. Taken by the Night. Snatched from their beds or from tunnels or while sneaking around after sunset, forced into illegal deeds to stay alive. A gust of wind blasts from nowhere right through the trees above me, casting leaves down like heavy raindrops. I startle when they hit me, but as fast as they've fallen, I brush them away, silently cursing the cold breeze for scaring me. For reminding me of childhood bedtime stories.
When evening's wind laps through the trees, the Night's light footsteps hide 'neath the breeze.
Fear is a luxury I can't afford at the moment."
I adore this interaction between Veda and her best friend (and maybe more) Nico. It shows how truly connected they are while at the same time living in very different worlds:
"Nico and I meet on the other side of the gate to the Hole, under the same tree as always. He tags along most days, but his excuses for being here are growing thin as his Dogio engagements only increase. Sure, today he had a valid story to be at the Hole, but what will he come up with tomorrow?
"How was James?" I ask as Nico approaches.
He smiles proudly, showing the deep dimple in his cheek. It's adorable when he's happy. Nico's smile: one of my favorite sights in the world. "Nervous, but he did well."
"You went over it enough with him—he could probably do the motions in his sleep."
He laughs. "Sort of—he said he dreamed about it last night. Maybe I was a little too hard on the kid. He'll make a fine Imperi officer in a few years though."
At the word officer my stomach falls. My smile must falter because Nico's dimple disappears. Expression replaced with concern, he steps closer. "What's the—"
"I'm fine." It's like an automatic response these days.
I shake my head and shrug, but . . . "There's no point getting into it." I glance over his shoulder. "Especially not here." His friend Arlen is quickly striding toward us. Always in a hurry. Always dragging Nico off to one thing or another after fishing, like clockwork.
"Denali!" Arlen shouts Nico's last name. "Blessed be the light!"
"Blessed be the light." Nico throws the greeting out even though he's still facing me. He then takes a step away and frowns, disappointment showing in his dimple. He turns toward Arlen, raising his eyebrows. "Let me guess, my father sent you."
"What can I say, he knows who to turn to, to get things done." So humble. "Hey, Veda." Arlen makes sure to stare several seconds extra at the place where my shawl is unraveling. "Blessed be the light."
"Blessed be the light, Arlen." I sort of smile by setting my mouth into a hard line, because he's perpetually two steps behind Nico. Always spying over Nico's shoulder. All thanks to Lord Denali. Since Nico's father can't be sure his son stays on task himself, he's employed an annoying substitute. "Where to today?"
Arlen laughs. "Where to today . . ." He seems to size me up to see whether I'm being serious or not. I'm not. Of course, I know what event Nico's being summoned to instead of his attending his usual mentoring classes, but I keep the guy hanging for fun by shrugging. "Ever. Sol. Feast."
"Oh . . . Right." I catch Nico's eye. He folds his arms over his chest, avoiding eye contact with me, probably to hold back a laugh.
"Are you serious, Veda? It only happens every year," Arlen goes on. And on . . . He talks about how he'll forgive me for not remembering . . . That he forgets Basso don't celebrate the great feast when everyone brings blessings of lavish food and prays to the Sun to please shine throughout this dark night . . . That when it does happen—and it will happen, Arlen believes, he truly does—the Sun will finally snuff out the Night and their evil ways for good.
Meanwhile, Nico and I are communicating without words. He raises an eyebrow, what I assume to mean "Are you and Poppy ready for tonight?"
I give a slight nod. Kind of. Are we ever?
He smiles softly, more concerned than pleased. But if you'd only let me help . . .
Yeah, right. Like you could. Like your father would allow you to be five feet from your front door tonight.
You're right. I hate that you're right . . .
Or something like that. We've had this conversation before, so it's easy to fill in the blanks."
Here's an intense scene with Veda and her grandfather, Poppy. They're having to hide from the secret society, The Night, during they're reckless and deadly 'Night of Reckoning':
"I slide open the wood-planked basement door. We hurry down the ladder, Poppy pulling the carpet back over, locking the door behind us.
Within the cellar is one lantern, a jug of water, jarred food, and a couple of blankets.
The space is cramped, no larger than a broom closet, but it's the safest place right now. Last year when several homes burned to the ground, the only saving grace was that the families hid in their cellars. They lived. If you don't have a cellar, on this night, you know someone who does.
I stare across the short distance to Poppy. His eyes are heavy; he's probably exhausted from the work of getting the house boarded up, worrying over me cutting things much too close, on top of laboring the day away selling worms at the bait stand.
I wish I could give him a barrel of candied lemon.
"You sit," I say, pushing the one stool toward him. He doesn't protest. I hand him a blanket and I sit on top of the other on the floor. "Will they ever stop?"
"Afraid not," Poppy says through work-weathered hands as he rubs his eyes. "Not until they get what they want."
"What more could they possibly want? I know they hate us, but to what end?"
"Power, my Veda. It's all about power."
"I don't get it. Who the hell cares about all that?"
Poppy snorts in that way he does when he agrees with me and also eyes me for saying hell. "The Night. The Imperi. Those who already have it and fear losing it."
I roll my eyes. "At least the Imperi protects us . . . Sort of." But do they? Sure, they'd insist they do, but with each day that passes, each morning I have to sneak out for bait, it feels less true. More and more I can't help but feel we're just pawns to their king. We do all the work while they roam wherever they please, laughing and celebrating, bellies full of candied lemon. Yeah, they'll recruit us to fight, to tend their gardens, to bake their bread, but never—never—to share their gold-linen-adorned table.
"Mmm . . ." Poppy nods. He takes my hands in his and is about to say something, go into one of his stories from my childhood, probably, when there's a blast above. What I assume is the back door, those boards Poppy so hastily used to barricade it, left a mess of splinters on the floor.
The noise travels down into the cellar, rapping against my ribs. Poppy's eyes are wide, his forefinger hovering at his mouth. I blow out the lamp.
The world is painted pitch black.
Booted footsteps knock against the planked floor over our heads.
The darkness is so dense, so all encompassing, I can't see even inches in front of me.
More footsteps. There must be at least six Night soldiers marching around our home as we wait like sitting ducks below.
Something falls over. A shelf? Our kitchen table?
I pull my knife from my boot.
Poppy squeezes my shoulder as if reminding me not to do anything reckless or hasty.
Another item crashes to the floor.
My heartbeat is all I can feel. All I can hear, the thump-thump-thump between my ears.
I'm about to dare a whisper to check on Poppy when something slick and cool drips through the
slats of the ceiling onto the top of my head. Then again.
Poppy must feel it too because he lights a single match for light. I glance to his face, gasp, and
then look down at my hands where I've wiped the warm liquid off my head. It's red.
.........................................................................................................................................................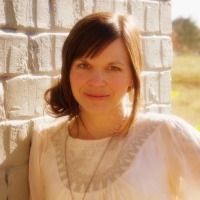 Jessika Fleck is an author, unapologetic coffee drinker, and knitter — she sincerely hopes to one day discover a way to do all three at once. Until then, she continues collecting vintage typewriters and hourglasses, dreaming of an Ireland getaway, and convincing her husband they NEED more kittens. Her YA debut, THE CASTAWAYS (Entangled TEEN), is now available. Her next YA novel, BEWARE THE NIGHT (Swoon Reads/Macmillan) releases March 12, 2019.




..........................................................................................................................................................


Thanks so much for stopping by!
♥
Happy Reading!
..........................................................................................................................................................