.......................................................................................................................................................

.....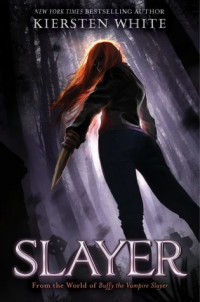 Title:
Slayer
Author: Kiersten White
Genres: Young Adult, Paranormal, Urban Fantasy
Pages: 404
Pub Date: January 08, 2019
Publisher: Simon Pulse/Simon & Schuster
Book Source: personal collection
My Rating: 5 of 5 stars
Synopsis: Into every generation a Slayer is born…

Nina and her twin sister, Artemis, are far from normal. It's hard to be when you grow up at the Watcher's Academy, which is a bit different from your average boarding school. Here teens are trained as guides for Slayers—girls gifted with supernatural strength to fight the forces of darkness. But while Nina's mother is a prominent member of the Watcher's Council, Nina has never embraced the violent Watcher lifestyle. Instead she follows her instincts to heal, carving out a place for herself as the school medic.

Until the day Nina's life changes forever.

Thanks to Buffy, the famous (and infamous) Slayer that Nina's father died protecting, Nina is not only the newest Chosen One—she's the last Slayer, ever. Period.

As Nina hones her skills with her Watcher-in-training, Leo, there's plenty to keep her occupied: a monster fighting ring, a demon who eats happiness, a shadowy figure that keeps popping up in Nina's dreams…

But it's not until bodies start turning up that Nina's new powers will truly be tested—because someone she loves might be next.

One thing is clear: Being Chosen is easy. Making choices is hard.
...................................................................................................................................................................................
*** POSSIBLE SPOILERS ***
So, I've never read a book by Kiersten White before, but when I found out about this one, I HAD to make it my first. Now, I was predisposed to either love this book or hate this book. I grew up watching Buffy and that series is everything. 10/10. This leaves no wiggle room for me; it was going to be all or nothing, and it ended up being everything I'd hoped for!

Nina (our protag) and her twin sister, Artemis, grew up in the Watcher's Academy. They, and other teens like them, are trained as Watchers—guides for Slayers. Artemis is strong and dominant, while Nina has never been into the violence that accompanies being a Watcher. She is more of the black sheep, if you will, and has become a medic/healer within the academy.

Then, Nina's life is changed forever.

Nina hates Buffy Summers. Buffy is responsible for the death of Nina's father, and she can never forgive that. Not only that, but Buffy is also responsible for destroying the Star Seed and ending magic forever. As a result of this, Nina is the final Chosen One; the final Slayer to ever exist.

There was nothing I disliked about this book.

It has mixed reviews, and I don't care. I loved everything about it!

I think those who enjoy the Buffy TV series can enjoy this, but I don't think it is a necessity to have watched the series. Kiersten White made sure to write this as a whole, completely enjoyable without prior knowledge of the Buffy world. There are some things you may only recognize or catch onto as a fan of the original series, but not catching these small details won't take away from the book. They are simply Easter Eggs for those of us who have watched it. This story definitely stands on it's own.


There's another way out there, and no matter what, I'm going to find it. If I'm Slayer, my choice is to use everything I've been given to protect those I love and to protect those I'll never even know.

It's funny, because as much as Nina dislikes Buffy, she really is a lot like her. Stubborn, loyal, sarcastic. I felt a parallel personality, but Nina also feels new and interesting within the Buffy universe. I was invested in her story 100%. There is a romance, kind of. It wasn't very prominent, in my opinion, but it was there. Leo is someone Nina crushed on for years, but she was outed in an embarrassing way by a schoolmate and has never lived it down. Leo left the academy for awhile on a mission, but is now back and as handsome and charming as ever. Nina falls for him all over again, but it is a back-burner type of romance. It plays a part in the story, for sure, but it doesn't overwhelm the urban fantasy feel.

Another plus? Lesbians and gays! Artemis is a lesbian (as far as can be seen) and has a love interest herself. It isn't a main focus, but I appreciated it nonetheless. There was also a gay male couple within the inner circle. I adored all of them and the fact that there was some diversity here. I see it as an ode to our OG lesbian couple, Willow and Tara. ♥

Overall, I just loved this book so much. It was a reading experience for me. It had that genuine Buffy feel to it, including the very iconic Buffy the Vampire Slayer humor I so dearly love. There were vampires, demons aplenty, slayers, and Watchers. The book had a little of everything I remember from the original series, and then took it to another level. I loved the characters and felt a connection with them. I enjoyed it from page one all the way to the cliffhanger ending. This book definitely left me wanting more! I recommend it to anyone who enjoyed Buffy for a nostalgic walk down memory lane (with a new twist!), and even those who've never watched it. This book is enjoyable all around. Bring on book two!