.......................................................................................................................................................

.....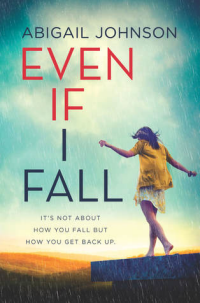 Title:
Even If I Fall
Author: Abigail Johnson
Genres: Young Adult, Contemporary
Pages: 352
Pub Date: January 08, 2019
Publisher: Inkyard Press (formerly Harlequin Teen)
Book Source: publisher via edelweiss
My Rating: 3.5 of 5 stars
Synopsis: A year ago, Brooke Covington lost everything when her beloved older brother, Jason, confessed to the murder of his best friend, Calvin. Brooke and her family became social pariahs, broken and unable to console one another. Brooke's only solace remains the ice-skating rink, where she works but no longer lets herself dream about a future skating professionally.

When Brooke encounters Calvin's younger brother, Heath, on the side of the road and offers him a ride, everything changes. She needs someone to talk to…and so does Heath. No one else understands what it's like. Her brother, alive but gone; his brother, dead but everywhere. Soon, they're meeting in secret, despite knowing that both families would be horrified if they found out. In the place of his anger and her guilt, something frighteningly tender begins to develop, drawing them ever closer together.

But when a new secret comes out about the murder, Brooke has to choose whose pain she's willing to live with—her family's or Heath's. Because she can't heal one without hurting the other.
...................................................................................................................................................................................
*** POSSIBLE SPOILERS ***
This is going to be nearly impossible for me to review without spoiling, but I am going to try my best!



One year ago, Brooke's family fell apart. Her brother, Jason, confessed to the murder of his best friend Cal. Brooke's mom is in denial, her dad is angry and isolated, and her sister has gone silent and barely takes care of herself. Brooke feels as if she is the only one trying to hold the family together, but... She's hurting too. She's angry too. The only things in her life keeping her sane are her best friend Maggie (who doesn't know the truth of why Jason isn't around) and working at the ice-skating rink where she used to once dream of skating pro. That dream no longer exists now that Jason is in prison.

And dreams no longer fit into the nightmare we lived in.

Things begin to take a turn when, one rainy evening, Brooke sees Heath walking home in the pouring rain. Heath is Cal's younger brother. Brooke doesn't know why she does it, but she offers him a ride. He takes it, albeit with hostility in his eyes.

Eventually, the two begin a tentative, secret, friendship. They both seem to fill a void the other has in their heart, just a little bit.

Brooke is a wonderful character. She is strong, but flawed. She is trying the most, out of her entire family, to get things back to normal as much as she can. At the same time, she is lying to her new best friend, Maggie, about the truth of why Jason isn't around. She fears that Maggie won't speak to her anymore once she finds out, just like the rest of the town, who has shunned their entire family in the wake of Jason's confession. Brooke does the best she can when facing hostility from people at work or out in public, but it is daunting. She is an inspirational character.

When visiting Jason in prison, Brooke finds out that someone else was present the night Jason murdered Cal. Brooke thinks Jason is protecting someone, so the does some digging and unveils a pretty big secret. The secret itself was a bit predictable—one half of it anyway, because it really is two secrets—and this is one of the reasons I couldn't give the book a higher rating. The reasoning behind the murder was such a trope, but still, the author did do a nice job of trying to point us in other directions. I was iffy, but ultimately guessed it. It was a tad bit disappointing. The SECOND secret was mind-blowing. It doesn't have to do with the actual murder, but someone witnessing it. It shocked the heck out of me and I bet it'll shock you too. Never saw that coming.

The romance is actually really good! No instalove. No my-new-boyfriend/girlfriend-heals-all-my-pain romance. Brooke and Heath have to sludge through their blooming friendship and romance. They struggle. Heath is angry—rightfully so—and has to learn that Brooke is not her brother. Brooke has to grasp the fact that Heath is going to hate her brother no matter what. When the two finally meander through their feelings enough, their romance builds into something beautiful and inspiring. Heath encourages Brooke to go for her dream of ice-skating professionally, and helps her with the moves she needs to send in her audition film.

One other small issue I had with this book is that none of these characters, in the aftermath of a MURDER, mind you, are seeing therapists! WHAT THE ACTUAL FUCK? I honestly didn't even catch this until I sat down to write this review. NO ONE was seeing a therapist or counselor. No freaking wonder they were all walking around either angry, unshowered, or in denial. I am quite annoyed at this, to be honest. Enough so that I have to knock off another half-star for it. Sad, because I really like this book. It's just that the family is in SHAMBLES, you know? Healing can't always come from within, sometimes you need help. And trust me, Brooke's family needed the help. So bad.

Overall, I did enjoy this book. It packs A LOT of emotional punch. It has angst, but deeper angst than what you'd expect. It breaks your heart and then puts it back together again. The characters are very well fleshed out, even the supporting characters such as Maggie (loved her so much!). There is a little of everything in this book—murder, romance, mystery, family drama, bullying, and more. I didn't like the lack of counseling or the fact that there was some predictability to the plot, but there were also a lot of surprises and one really big twist. I can confidently recommend this one!