.......................................................................................................................................................

.....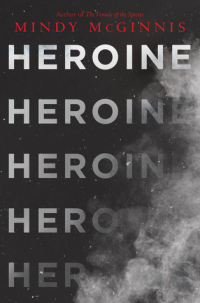 Title:
Heroine
Author: Mindy McGinnis
Genres: Young Adult, Contemporary
Pages: 432
Pub Date: March 12, 2019
Publisher: Katherine Tegen Books/Harpercollins
Book Source: publisher via edelweiss
My Rating: 5 of 5 stars
Synopsis: When a car crash sidelines Mickey just before softball season, she has to find a way to hold on to her spot as the catcher for a team expected to make a historic tournament run. Behind the plate is the only place she's ever felt comfortable, and the painkillers she's been prescribed can help her get there.

The pills do more than take away pain; they make her feel good.

With a new circle of friends—fellow injured athletes, others with just time to kill—Mickey finds peaceful acceptance, and people with whom words come easily, even if it is just the pills loosening her tongue.

But as the pressure to be Mickey Catalan heightens, her need increases, and it becomes less about pain and more about want, something that could send her spiraling out of control.
...................................................................................................................................................................................
*** POSSIBLE SPOILERS ***
When I wake up, all my friends are dead.

Mindy McGinnis is an auto-buy author for me, and this book is a prime example of why. She knows how to grip me from page one and keep me hooked 'til the very last page.

Heroine blew me away. The book opens up with a glimpse into the future of the story, but chapter one starts out with a terrible car accident. Mickey and her best friend (and softball teammate) are severely injured—Mickey, our MC, gets the worst of it. She ends up with three screws in her broken hip and laid up in bed two months before spring training. Mickey is frustrated and feels as if her best friend, Carolina, blames her for the wreck. Mickey struggles with her relationships at home as well, and she feels as if she has no control over her own life. Mickey quickly turns to the one thing that makes her feel better; makes her feel as if she can make it to spring training, and numbs the physical pain as well as the emotional—Oxy.


I'm a map of pain, needle pricks you could connect all over my skin...

I'm not taking Oxy because it makes me feel good.
I'm taking it for other people.

Mickey quickly realizes her prescription is not enough and seeks out other—illegal—sources. She slowly, but steadily, tumbles down the rabbit hole of addiction. She finds new people to hang around with, and although she feels as if they are her friends, like they understand her, they only seem to be around when there are drugs involved. In no time at all, Mickey moves from Oxy to heroine.

This story is just amazing. I haven't read a teen addiction story that really gripped me like this one did. Mindy McGinnis is a fucking genius. I bow down to her storytelling. It's a slow-burn, but it holds onto you like nothing else. I LOVE HER BOOKS. This book was no exception. Watching Mickey fall down further and further as she tried to get up was an emotional experience for me, and this is because it's something people go through every single day; it's a real thing. Addiction is a disease and it doesn't discriminate. I think Mindy did a wonderful job of presenting a true look into what addiction can be like; it isn't a decision someone makes. I love love love the insight in this book, and in Mickey's journey.

I also appreciated that the end wasn't really a happily-ever-after. I won't give away the details, but it is, again, a true portrayal of addiction. You don't go to a rehab center and get "cured". It is a lifelong struggle/decision to never go back to your vice, and that is reflected in Heroine. Amazing storytelling!

Overall, this book was perfection. Mindy McGinnis really has done it again, but I'm honestly not surprised. She does contemporary so very well. This book has highs and lows, and it has feeling and intensity. It is an honest look into what addiction can look like from many angles, and how it can happen to almost anyone, even if you've never even thought to expect it. I loved the characters and found them to be multidimensional. The story kept me on my toes and wanting more. There is some sensitive content, obviously, but this is still an important book. I recommend it for all!