.......................................................................................................................................................

.....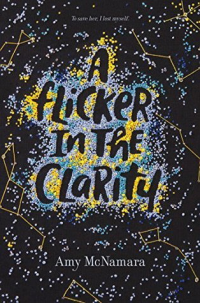 Title:
A Flicker in the Clarity
Author: Amy McNamara
Genres: Young Adult, Contemporary
Pages: 428
Pub Date: June 12, 2018
Publisher: HarperTeen
Book Source: publisher via edelweiss
My Rating: 2 of 5 stars
Synopsis: For as long as Evie can remember, she and Emma have been best friends. They've gone through everything together—only Evie understood what it was like for Emma to lose her older brother in a car accident. And though they couldn't be more different—Emma is the life of the party while Evie is shy—the dynamic has always worked for them.

But then Evie makes a careless mistake that ends up having serious consequences for Emma. They've had their squabbles before, but this is different. When Evie tries to apologize, Emma ignores her texts, gets a new best friend, and completely freezes her out. Evie didn't mean to betray Emma in the way that she did, and she's desperate to get back in Emma's good graces. Who is Evie without Emma?

Then Evie meets Theo, a kindred spirit unlike any boy she's ever encountered. With him, she can at least pretend like her life is normal. But just as she's about to let go and fully fall into whatever is happening with him, Emma resurfaces, miraculously letting Evie back in—though it's not without consequence. Erratic behavior, drunken incidents, and panicked late-night calls are only some of the hoops Emma makes Evie jump through. All Evie has wanted is to get her best friend back—but Emma seems hell-bent on self-destruction. Evie is used to swooping in to pull Emma out of her troubles, but how do you help someone who doesn't want to be saved?
...................................................................................................................................................................................
*** POSSIBLE SPOILERS ***
Evie and Emma are best friends. The type of best friends where one is shy and one is outgoing. The dynamic has worked for them so far, but the book begins with them having a rift. Now, the synopsis will have you believing that something huge happens; some terrible thing with terrible consequences. No. Emma is out with some older guy, spending the night with him, partying, etc. Evie always covers for her with Emma's parents, right? Well Emma stands Evie up when they are supposed to meet. Evie gets angry as it isn't the first time, so when Emma's dad asks Evie if she has seen Emma, she lies and says NO, haven't seen her today. That's basically THE THING that breaks their friendship. Emma's parents are strict and very religious, and they frown upon all of the partying Emma does and wouldn't approve of her older boyfriend and all of that mess. So when they find out where she really was, she is grounded. Big fucking deal, yeah? So, teen angst ensues. Emma stops speaking to Evie. Emma befriends Evie's arch nemesis. Evie meets a guy. Instalove.



So, the romance. Said guy that Evie meets...well, it was a shit show. Theo. Theo is an oh-so ~mYstEriOuS~ cute guy that shows Evie a bit of attention, and she goes haywire. This is barely a romance we have here. Evie is enthralled by the guy, but he barely speaks to her at first. He is really closed-off (aren't they always?) and sort of an asshole to her. After he warms up, they are basically madly in love for a week, have sex, and then he stops speaking to her. She gets upset and goes to his house to confront him. He has some "excuse" about it, then says he is going on some mission trip and leaving forever and ever. They are done. BYE BYE. Romance was a bust, to be honest.

Let us move on to Emma. This is where I had my biggest problem with the book. So, Emma is very high and low. One moment she is pissed off and mean to Evie, and the next moment she is showing up at Evie's house for a random road trip. Then, the girl is so depressed she ends up sitting on some subway rails and almost gets herself killed. Now, there is a serious note to this book. Emma's older brother died awhile back and she is still pretty devastated; still trying to deal with the grief. She is sad, angry, and doesn't know what to do with herself. So this book really touches on grief and what it can do to a person and how it can change their relationships, etc. Now, I acknowledge that the author made Emma so unstable because of her grief, but her behavior was borderline bipolar. This girl was MANIC. The things she was doing and how she spoke truly read like a mental illness/disorder. The girl needed help, not grounding from her parents. I don't know, it just bothered me how it all played out. In the end, she got no help and things were just sort of left unsaid and up-in-the-air; no closure at all!

And that about wraps up the review for me. The book had so many loose ends. I felt like nothing was wrapped up. The friendship wasn't resolved. We don't find out how Emma's parents end up dealing with her mental instability. We don't see if Evie's mom's relationship works out (because they make that into a thing). Theo disappears from the face of the earth. It was really just NOT my cup of tea. The pace of the book was also quite slow. If you like A LOT of angst and instalove, this may be a book for you, but otherwise... not recommending. I was going to give it a 1.5, but chose to round up to two because the title is just lovely and I did enjoy reading about how Emma's brother died and the story behind all of that. Otherwise, it was a flop for me.