.......................................................................................................................................................

.....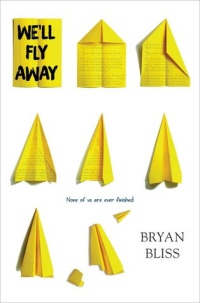 Title:
We'll Fly Away
Author: Bryan Bliss
Genres: Young Adult, Contemporary
Pages: 408
Pub Date: May 08, 2018
Publisher: Greenwillow Books/HarperTeen
Book Source: publisher via edelweiss
My Rating: 4 of 5 stars
Synopsis:

Uniquely told through letters from death row and third-person narrative, Bryan Bliss's hard-hitting third novel expertly unravels the string of events that landed a teenager in jail. Luke feels like he's been looking after Toby his entire life. He patches Toby up when Toby's father, a drunk and a petty criminal, beats on him, he gives him a place to stay, and he diffuses the situation at school when wise-cracking Toby inevitably gets into fights. Someday, Luke and Toby will leave this small town, riding the tails of Luke's wrestling scholarship, and never look back.



But during their senior year, they begin to drift apart. Luke is dealing with his unreliable mother and her new boyfriend. And Toby unwittingly begins to get drawn into his father's world, and falls for an older woman. All their long-held dreams seem to be unraveling. Tense and emotional, this heartbreaking novel explores family, abuse, sex, love, friendship, and the lengths a person will go to protect the people they love.
...................................................................................................................................................................................
*** POSSIBLE SPOILERS ***
We'll Fly Away is a story that will leave you feeling a lot of feelings—and not necessarily good feelings. This book is bleak and it is sad, but it is a wonderful read.

Luke and Toby grew up together in a small North Carolina town and belong to families that could only be considered trashy—poor, abusive, inattentive, selfish, etc. Luke's mother has him and his younger siblings living in a one bedroom apartment much too small for them. She barely works and would rather bring home strange men and try to leech off of them for money. The father is not in the picture. Toby has the opposite. He lives with just his father, alone in a small house. His father is an alcoholic and extremely abusive to him. All their life, Luke has watched over Toby, patching up his cuts and bruises, letting him sleep on the floor at his apartment as much as possible to avoid his father's rage.

We know from the very beginning of the book that Luke is in prison on death row. Part of the storytelling is done via letters to Toby from Luke. So, the book is gloomy from the get-go. We know something goes down and Luke ends up in prison. There can be no happy ending to this story.

Toby and Luke meander through high school and family life by leaning on each other. Luke is a wrestler, and a very good one. The boys are putting their future on Luke securing a wrestling scholarship and getting them both out of their crappy lives. When the two need an escape, they head into the woods nearby to a hollowed out plane. They spend time there and bond, as friends do. They dream of a future where they are free of their hardships; they talk about how amazing it'll be when they can escape together.

We are not living in a world that stands still.

Things begin to fall apart when both of them meet girls. Luke meets a girl via her being his new neighbor, and Toby meets an older woman at a bar his father frequents. These two relationships cause rifts between the best friends. Toby even falls into some of the illegal business his father is involved with.

I loved this book for everything but the "romance" bits. It kind of held the plot back and made the middle of the book laggy and skim-worthy. The story lost its way around the middle, but thankfully picked back up not too long after.

The characters are extremely relatable. I wanted to wrap both boys up in my arms and protect them from the harshness of their lives. I think Bryan Bliss captured the chaos of life so perfectly in this book. Sometimes, in life, you're dealt a shitty hand, and that is what is portrayed here. Neither of the main characters could've escaped their situations easily. They are just kids, you know? It was up to their parents to care for them, and they failed miserably.

The best thing about this book for me is that it doesn't have a happy ending. It is sad and may induce tears. It is gut-wrenching and horrible. I hated it and loved it at the same time. I hated it for how real and true it could be, but loved it because this is a book that doesn't apologize. The story is earnest and raw. I believe this book is a symbol for standing against capital punishment. I, personally, think it is a great example of a situation where the death penalty is not right. That's the only thing I will really say on that, as it is a personal opinion.

Overall, this book touched me to the core. It left me lost and in tears. I loved and hated it. It was very well written. The characters are built perfectly and seem so real when you read it. I enjoyed the interspersed letters from Luke to Toby via death row. It was an interesting perspective to place into a young adult story. It fit well into the narrative. This story is beautiful in it's anguish. I recommend it to everyone, but keep in mind that it is a grim story with no happy ending to be had. Beautifully done. After this, I plan to read Bryan's other two books ASAP.