.......................................................................................................................................................

.....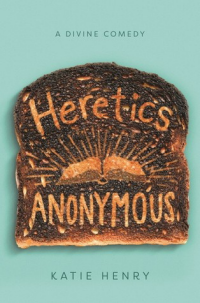 Title:
Heretics Anonymous
Author: Katie Henry
Genres: Young Adult, Contemporary
Pages: 336
Pub Date: August 07, 2018
Publisher: Katherine Tegen Books/HarperCollins
Book Source: publisher via edelweiss
My Rating: 5 of 5 stars
Synopsis: Michael is an atheist. So as he walks through the doors at St. Clare's—a strict Catholic school—sporting a plaid tie, things can't get much worse. His dad has just made the family move again, and Michael needs a friend. When a girl challenges their teacher in class, Michael thinks he might have found one, and a fellow nonbeliever at that. Only this girl, Lucy, is not just Catholic . . . she wants to be a priest.

But Lucy introduces Michael to other St. Clare's outcasts, and he officially joins Heretics Anonymous, where he can be an atheist, Lucy can be an outspoken feminist, Avi can be Jewish and gay, Max can wear whatever he wants, and Eden can practice paganism. After an incident in theology class, Michael encourages the Heretics to go from secret society to rebels intent on exposing the school's hypocrisies. When Michael takes one mission too far—putting the other Heretics at risk—he must decide whether to fight for his own freedom, or rely on faith, whatever that means, in God, his friends, or himself.
...................................................................................................................................................................................
*** POSSIBLE SPOILERS ***
I didn't lose my faith or anything. I never had it in the first place. I never believed in any kind of God, just like I never believed in werewolves, or ghosts...

Being that I am an atheist myself, I had very high hopes for Heretics Anonymous. It did not let me down!

This book is centered on respecting other peoples' beliefs, even if you don't believe the same. It's about coexistence. There is also a romance, family drama, and quite a bit of satire. I loved it ALL.

Michael is a wonderful character. We start off the book with him being annoyed at being moved to a new city and having to go to a new school again—and a Catholic school of all places. An atheist at a Catholic school? Doesn't sound like fun. One would likely to go into it feeling like they had to hide who they were and that they were not religious. Michael hopes to find just one person like him; just a single non-believer or maybe even a skeptic. When Lucy speaks up against one of the teachers in class, Michael thinks he has found this person.

Wrong. Lucy is Catholic, but questions/challenges a lot of the things ingrained within the religion. This makes her a heretic. Thus, we meet Heretics Anonymous.

In Heretics Anonymous (a support group of sorts) Michael meets more people like him, but also unlike him. Something I loved about this book is that we don't just meet a christian and an atheist. We also encounter a pagan, Unitarian, and Jewish kid (who is also gay). The best part? They are all friends! Do they have disagreements? Absolutely. But they respect each others opinions and beliefs—which is what we should ALL be doing.

Everything hits the fan when the HA group decides to go public. They start a small movement and it doesn't go as planned, in both good ways and bad. I wasn't expecting this, but I loved it all the same.

The romance in this book is light, but also not. It highlights trying to meander through a new relationship when your beliefs are fundamentally different. But does religion (or lack-of) define a person or a relationship? It does not. Yes, Michael and Lucy do struggle through parts of their budding romance, but ultimately they work it out. My favorite part is that neither of them tries to change the other. Does Michael magically end up a religious guy at the and of the story? NOPE. If he had, this book would have gotten one measly star, because that'd be the opposite of what I wanted. Thank goodness, this author did it right!


I don't believe in God, but that doesn't mean I believe in nothing.

Along with the romance and social themes, we also get a bit of family drama. Michael is furious with his father for constantly moving the family around for his various job transfers. We get to see him and his family struggle through this, causing a different sort of stress for Michael. Just as he settles into the new school and meets new friends /has a girlfriend, it's time to move again? Yeah. I enjoyed this aspect of the story as well. I found it well done and felt that it gave the story a little something more. It balanced out the rest of the plot and made it about more than just the issues of religion.

Overall? Amazing characters. Amazing plot. Amazing execution. Heretics Anonymous covers a wide array of themes—family conflict, religion (and lack-of), education, sexism, LGBTQIA+ issues, and most of all—TOLERANCE. Quite simply: You don't have to be an asshole to someone just because they are different than you. This book covers it all, and delivers it in a cuttingly hilarious package. The ending was SO SATISFYING for me, and I finished this book very happy. I definitely recommend this for literally EVERYONE. We all need a little dose of tolerance these days.