.......................................................................................................................................................

.....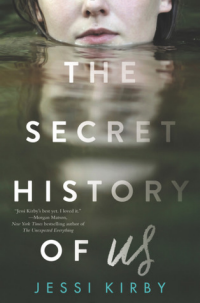 Title:
The Secret History of Us
Author: Jessi Kirby
Genres: Young Adult, Contemporary, Mystery
Pages: 288
Pub Date: August 01, 2017
Publisher: HarperTeen
Book Source: publisher via edelweiss
My Rating: 2 of 5 stars
Synopsis:

A near drowning…a coma for days…and then…



Olivia wakes up to realize she doesn't remember. Not just the accident—but anything from the last four years. Not high school. Not Matt, the guy who is apparently her boyfriend. Not the reason she and Jules are no longer friends. Nothing.

That's when it hits her—the accident may not have taken her life, but it took something just as vital: her memory. The harder she tires to remember things, the foggier everything gets, and figuring out who she is feels impossible when everyone keeps telling her who she was.

But then there's Walker. The guy who saved her. The one who broke her ribs pumping life back into her lungs. The hardened boy who keeps his distance despite Olivia's attempts to thank him.

With her feelings growing for Walker, tensions rising with Matt, and secrets she can't help but feel are being kept from her, Olivia must find her place in a life she doesn't even remember living.
- - -
The Secret History of Us... oh man, what can I say? Not a fan.

I loved the premise of Olivia losing basically her whole memory of high school. I always love a book with memory loss because there is always some huge thing hiding within those lost memories.

BUT... in this book, it was too obvious WHAT that hidden thing was. I like a little actual mystery IN MY MYSTERY STORIES. Basically, Olivia wakes up with a chunk of her memory missing. She angsts over her boyfriend (who has no personality, BTW... kind of like Olivia herself), decides she likes another guy, finds out the thing, then lives HEA. THE END. All of the MIDDLE pieces were just boring fluff. I honestly expected more.

The characters had very little personality. The author spent too much time on the silly details of Olivia's memory loss and the fact that she was mentally stuck in middle-school than actually building up the characters a bit. They were just bland, thus making the story more bland. There wasn't any real emotion in this book, and I feel like better character development could've given us some of that. Perhaps the process of Olivia reconciling the person she was before the accident with the person she (according to her friends and family) should be now, would've been a little more impactful if we really understood who she was and how she felt. Not only was she hiding her feelings from her friends and family, but from the reader as well. There just wasn't ENOUGH.

Now, the only reason I gave this a two star instead of one was because, ultimately, the author did wrap things up nicely. I enjoyed the ending. It was a bit abrupt and maybe should've been built-up to better, but it was good. I liked that Olivia sort of stood up for herself and the person she was in that moment.

I have read a book similar to this. I have to mention it, because while I was reading this one, I found myself comparing the two. If you want something with a similar premise, but executed to perfection, check out One Moment by Kristina McBride. I read if a few years ago, and it blew me away. It has a VERY similar theme to this book, only 100x better.

Overall, this book was a fail for me. I can't really recommend it because it was just lackluster. Slow, boring, dull, etc. No real character development and no real storyline. It was kind of gimmicky and just not for me.