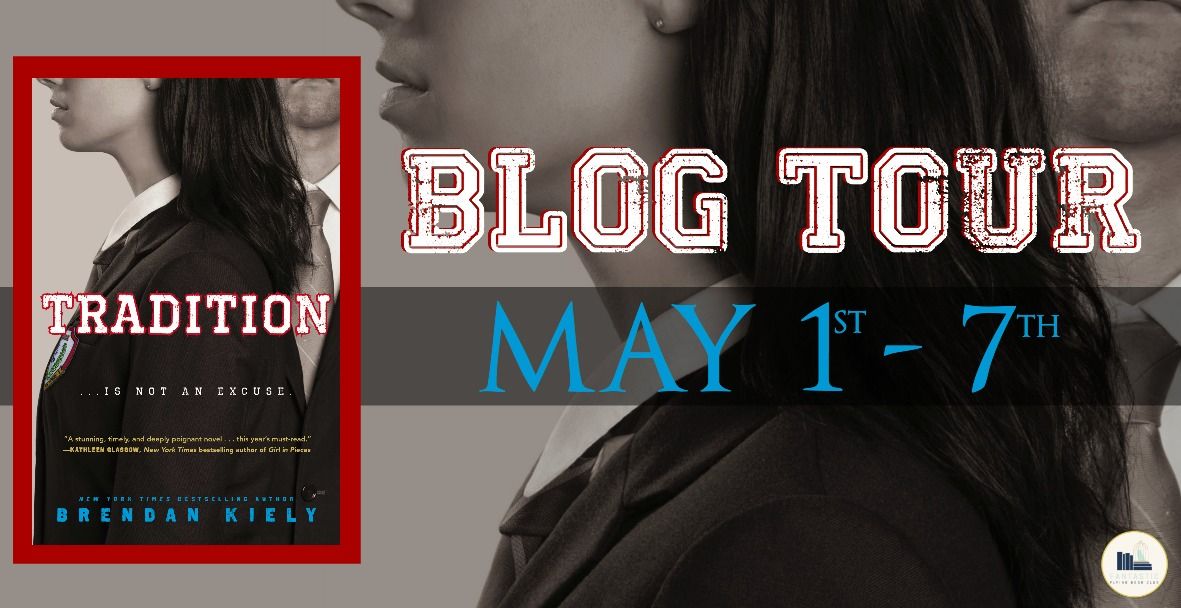 ..........................................................................................................................................................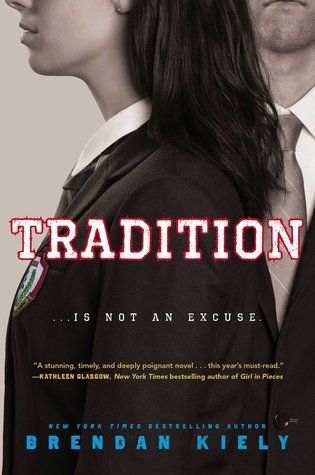 Tradition
by Brendan Kiely
Prestigious. Powerful. Privileged. This is Fullbrook Academy, an elite prep school where history looms in the leafy branches over its brick walkways. But some traditions upheld in its hallowed halls are profoundly dangerous.
Jules Devereux just wants to keep her head down, avoid distractions, and get into the right college, so she can leave Fullbrook and its old-boy social codes behind. She wants freedom, but ex-boyfriends and ex-best friends are determined to keep her in place.
Jamie Baxter feels like an imposter at Fullbrook, but the hockey scholarship that got him in has given him a chance to escape his past and fulfill the dreams of his parents and coaches, whose mantra rings in his ears: Don't disappoint us.
When Jamie and Jules meet, they recognize in each other a similar instinct for survival, but at a school where girls in the student handbook are rated by their looks, athletes stack hockey pucks in dorm room windows like notches on a bedpost, and school-sponsored dances push first year girls out into the night with senior boys, the stakes for safe sex, real love, and true friendship couldn't be higher.
As Jules and Jamie's lives intertwine, and the pressures to play by the rules and remain silent about the school's secrets intensify, they see Fullbrook for what it really is. That tradition, a word Fullbrook hides behind, can be ugly, even violent. Ultimately, Jules and Jamie are faced with the difficult question: can they stand together against classmates—and an institution—who believe they can do no wrong?
* * *
• Genres:
Young Adult, Contemporary
• Publisher:
Margaret K. McElderry Books
• Add the book on Goodreads!
•
Purchase:
Amazon / B&N / Kobo / TBD / IndieBound
..........................................................................................................................................................

with Brendan Kiely
LM: What inspired you to write Tradition?
Brendan: I wanted to write a book that challenged the deeply embedded misogyny in our culture, and I was inspired by the courage of Emma Sulkowicz as she dragged her mattress to graduation at Columbia University to remind the world that no amount of institutional cover up could silence her, and I was inspired by a photo of a boys' football team in Portland, OR who all donned wild feminist t-shirts and said "not in our locker room" as a response to Donald Trump's inexcusable behavior revealed on the Hollywood Access tape. I was inspired by the idea of what it would look like if someone like Emma Sulkowicz and someone like one of the players from that football team decided to work together to expose the misogynistic attitudes and behaviors that engender rape culture.
LM: Tell us a little bit about Jules & Jamie—who are they?
Brendan: Jules and Jamie are both in their final year of boarding school. Jules has been there since 9th grade and she's incredibly smart, confident, outspoken, and she used to be one of the cool girls until she broke up with her boyfriend junior year and her friends played the all-too-typical power game and chose to remain friends with him, not her, so she's starting her senior year realizing that too much of high school has felt like a charade, and so once she's more socially isolated, her outspoken nature starts to work against her in a community that expects her to be more quiet and play by the constrictive social rules. Jamie, on the other hand, has just arrived. He is doing one post-graduate year (a fifth year of high school) at the boarding school, and he feels wildly out of place. He is working class, from the midwest, and the social codes and norms and behaviors of this wealthy private school feel like a foreign country to him. He's a mega-athlete, but he's grappling with guilt from a violent act that put him on the sidelines in his senior year back at his public high school. When he gets to Fullbrook Academy, the boys and other athletes want to pull him into their social circles, and at first he goes along willingly, just hoping to make friends, but at the same time he's also becoming friends with Jules, and he's starting to realize that the ways boys encourage each other to be misogynistic, the ways they tease the girls, the ways they try to coerce girls to sleep with them, are all incredibly dangerous. The backbone of the novel is the friendship that Jules and Jamie form to make an impact on their community.
LM:
Was there a particular scene in Tradition you had trouble with?
How did you power through it?
Brendan:
The scene that was the hardest to write in Tradition, the one that felt almost impossible to get right, was the entire section that is the party at Horn Rock. This is the night everything goes wrong for everyone and where the threads of so many friendships are pulled apart. It's the moment where my stomach sank the most imagining I was in the characters' shoes, feeling life as they experience it in that moment. It's the only scene in the book where I cried a little while I was writing it. (And that only happened twice before in my life--writing the scene in the basement in The Gospel of Winter and writing the last chapter of All American Boys). Even though in some moments, there are only a few words, that those words emerge from genuine tears, made me feel like I could push on through to the next scene.
LM:
Give us a little behind the scenes story about this book!
Brendan:
As with all my novels, I had to do research for this one too, and I spent time on a couple boarding school campuses getting a feel for the space, interviewing students and teachers, attending school dinners and functions, and there was one scene I had written for the book in particular that I loved for so many reasons, but also because it felt so true to a boarding school tradition, a bonfire pep rally. I loved the scene because it felt like a good representation of the pageantry of some school traditions and the freedom and ability to do some school functions at night that is unique to the boarding school experience. I was proud and excited about that chapter, and yet, as I read through the book and made edits, it also felt like a chapter in which I was getting lost and spending too much time with the research and not the character arcs. It felt like a 12-page stretch of documentary, not a scene that builds from the last one and sets up the next one, so, right before we printed the ARCs, I cut that chapter, wove the only necessary information from that scene into the story elsewhere, and just had to remember that sometimes we have to cut even our favorite scenes for the sake of the larger story.
LM:
If this book had a theme song, what would it be?
Brendan:
Bjork's "Army of Me" from the Tank Girl soundtrack is the song that throbs in Jules's mind and steams through her teeth and that Bax would shout out alongside her.
LM:
Can you share one of your favorite quotes or scenes from Tradition with us?
Brendan:
"They told us to be ready to take on the world, but then they told us to do it quietly. What if I wanted to be loud? What if I needed to be?"
LM:
Tell us what you enjoy doing when you aren't writing!
Brendan:
There's nothing I like more than going for long walks, and that's true anywhere, but I especially love it in the city where I live, New York, because I can be among so many people and still be completely anonymous, I can people-watch, get ideas for characters; I can be alone in my own head, finding a little peace, and not be alone in body or spirit, moving around with the thousands of people around me. And when I'm not walking, I'm parking it and eating any and every kind of food I possibly can with as many people as I can, because I love time with my friends, and though the life of a writer is sometimes solitary, I get recharged hanging out with friends, laughing and joking, telling stories and listening. At the end of the day, there's nothing I like more than sitting around a table listening to other people share their wisdom and humor. I love people.
..........................................................................................................................................................

Brendan Kiely is The New York Times bestselling author of All American Boys (with Jason Reynolds), The Last True Love Story, and The Gospel of Winter. His work has been published in ten languages, received a Coretta Scott King Author Honor Award, the Walter Dean Myers Award, the Amelia Elizabeth Walden Award, and was selected as one of the American Library Association's Top Ten Best Fiction for Young Adults. Originally from the Boston area, he now lives with his wife in Greenwich Village.




..........................................................................................................................................................
Huge thanks to Brendan Kiely for answering my questions today!
Readers, p
lease continue on for giveaway details! ~

a Rafflecopter giveaway
Thanks so much for stopping by!
♥
Happy Reading!
..........................................................................................................................................................