.......................................................................................................................................................

.....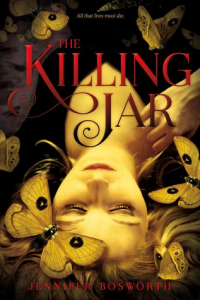 Title:
The Killing Jar
Author: Jennifer Bosworth
Genres: Young Adult, Paranormal, Horror
Pages: 352
Pub Date: January 12, 2016
Publisher: Farrar, Straus and Giroux
Book Source: Sent for review by the publisher
My Rating: 5 of 5 stars
Synopsis: Seventeen-year-old Kenna Marsden has a secret. She's haunted by a violent tragedy she can't explain. Kenna's past has kept people—even her own mother—at a distance for years. Just when she finds a friend who loves her and life begins to improve, she's plunged into a new nightmare. Her mom and twin sister are attacked, and the dark powers Kenna has struggled to suppress awaken with a vengeance.

On the heels of the assault, Kenna is exiled to a nearby commune, known as Eclipse, to live with a relative she never knew she had. There, she discovers an extraordinary new way of life as she learns who she really is, and the wonders she's capable of. For the first time, she starts to feel like she belongs somewhere. That her terrible secret makes her beautiful and strong, not dangerous. But the longer she stays at Eclipse, the more she senses there is something malignant lurking underneath it all. And she begins to suspect that her new family has sinister plans for her…
- - -
***THIS REVIEW CONTAINS SPOILERS!***

This is one of the best books I've read in some time. I put off reading this for like two years, and I am so happy I finally got to it, because what a gem! A creepy gem, but still a gem.


I try not to think about it, what I did to that boy.

Kenna, our MC, is living with a secret. Kenna has a twin sister, Erin, that she loves more than anything. Makes sense, yeah? Well, when a creepy little boy from school (one who tortures and kills animals) decides to do a REALLY fucked up thing, resulting in her sister's pain... 10-year-old Kenna decides to exact vengeance. Only, she never meant for it to end in the boy dying. When she confronted the boy, Jason, Kenna was overcome by a power she didn't know she possessed. Letting this power take over her, she literally syphons the life out of Jason and he dies, nothing more than a husk remaining.

Following this, Kenna's mother covers it up and tells Kenna she must NEVER do that again. Kenna tamps down her power and never touches anyone after killing Jason. She even pushes away her sister and her mother.

Years later, on the heels of another incident, Kenna's mother decides to send her to stay with her grandmother in a commune called Eclipse. At this commune, Kenna learns that she is not fully human. She is Kalyptra. Kalyptra are supernatural beings that consume the anima of living things to satiate a hunger inside of them. From what I understood, the Kalyptra don't need anima to live, but it is their sacred right as beings who worship and sacrifice to the ancient Eclipse Moth (basically an all-mother type of being).

So, I really started to fall in love with this book from the point of Kenna learning of her true nature. While she is staying at Eclipse, her grandmother, Rebekkah, manipulates her and brainwashes her to an extent. She even secretly feeds Kenna human anima when this is the reason Kenna came to Eclipse to begin with! SHE DOESN'T WANT TO HURT PEOPLE. She thought they were just syphoning from plant life. Eventually, Kenna realizes something is off, and she digs deeper into the people and things around her. She finds information that is horrifying and learns that her new "family" are really really fucked up people.

This book had a very dark aspect to it. Blood, torture, sacrifices, other cult practices... The entire commune (it was a cult, let's be real) thing was creepy as well. They all just chill up in the woods of a mountain, basically in an altered-state due to the amount of anima they've consumed. It's a giant group of—for lack of better word—hippies who suck the life out of people and worship a killer supernatural moth who requires sacrifices to continue to bestow the power upon them. When I say moth, I don't mean a moth the size of a butterfly—think DRAGON. It sounds insane, but the whole thing WORKS. It's terrifying! Kenna learns to see her curse as more of a gift (through manipulation and lies) while staying there, but upon finding out bits of the truth, she is torn. She wants to be around people who understand her and are like her, but at what cost?

Everything comes to a head when Kenna's grandmother tries to sacrifice her mother to the Eclipse Moth. I interpreted this as Rebekkah's way of killing two birds with one stone, if you will. Not only was it an obvious show of dominance over Kenna and her mother (along with the rest of the Kalyptra), but also a way to satisfy the Eclipse Moth AND eliminate Kenna's family, thus making her dependent on Rebekkah herself.

Overall, I feel that it is truly difficult for me to express how much I loved this book and exactly why. The story just had this dark feel to it and it was a true horror. It takes place in just the regular contemporary world, but it doesn't FEEL that way. It felt like an entirely different world to me—just a perpetually murky world. I enjoyed the characters. I was absolutely thrilled with the plot. The book was packed with storyline (and a very thorough one at that) even though it is only about 350 pages. I wish there was more to this story but, thankfully, the author wrapped it up very well at the end. I recommend this if you like creepy, unique stories with a dark twist.