.......................................................................................................................................................

.....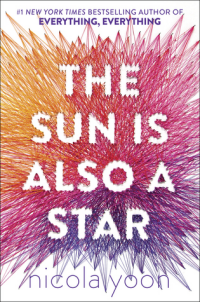 Title:
The Sun Is Also a Star
Author: Nicola Yoon
Genres: Young Adult, Contemporary Romance
Pages: 348
Pub Date: November 01, 2016
Publisher: Delacorte Press/Random House
Book Source: Personal collection
My Rating: 4 of 5 stars
Synopsis: Natasha: I'm a girl who believes in science and facts. Not fate. Not destiny. Or dreams that will never come true. I'm definitely not the kind of girl who meets a cute boy on a crowded New York City street and falls in love with him. Not when my family is twelve hours away from being deported to Jamaica. Falling in love with him won't be my story.

Daniel: I've always been the good son, the good student, living up to my parents' high expectations. Never the poet. Or the dreamer. But when I see her, I forget about all that. Something about Natasha makes me think that fate has something much more extraordinary in store—for both of us.

The Universe: Every moment in our lives has brought us to this single moment. A million futures lie before us. Which one will come true?
- - -
I read this book because of how much I enjoyed Everything, Everything. Annnnd, I am happy to say I enjoyed this one just as much!

This book is a lot deeper than it seemingly comes off at first. The book takes place over a very short period of time—twelve hours. Natasha's family are being deported to Jamaica in twelve hours. Her family came to the U.S. illegally when she was only 8-years-old. Her dad is an idiot and got a DUI, therefore they were caught and are being deported.

Daniel is a Korean-American boy whose parents are overbearing and quite strict. They have an idea of how theywant his future to be, and if he doesn't do what they want? CURTAINS! Jk. Basically, they'll guilt him into submission.

The two meet up unexpectedly, of course. The story is a lot more than just an untimely teen romance, though, I promise you.

"Sometimes your world shakes so hard, it's difficult to imagine that everyone else isn't feeling it too."

Now, this book contains insta-love. On a rare occasion, I enjoy insta-love. For some reason, if written just right, with the proper circumstances surrounding said insta-love, you will hook me. This is one of those times! It has a lot to do with the time constraint on the story. Things feel rushed, but not in a bad way. Daniel and Natasha meet in a dramatic way (think life-saving!), and things just spiral out from there. One detail leads to another, and things are all connected.

The romance itself was written very well. I appreciated the juxtaposition of personalities in this romance. Daniel is a romantic, through and through. He writes poetry and believes in fate and true love. Natasha, on the other hand, is a bit cynical and analytical. She is a bit elitist, to be honest. This is my one and only complaint, while we are here... her attitude put me off a little. It took me some extra time to actually begin to enjoy her as a character. Either way, it worked. Daniel decides to use a scientific approach to love when it comes to Natasha. From this point, the romance progressed quickly, but perfectly. I became invested in the characters and I was very happy with the bittersweet type of ending.

"I didn't know you this morning, and now I don't remember not knowing you."

I enjoyed the cultural/diverse elements of the book. A Jamaican family and a Korean family. I actually don't know anything about the Jamaican culture, but it was nice to learn a few things from the book. I do, however, know quite a lot about Korean culture (South Korean) because my partner is Korean-American. To note: I felt that the cultural aspects of Korean families were nicely done. I do know that Nicola Yoon is married to a Korean man, so this makes sense.

This book sort of highlights The Chaos Theory, or, better known as, The Butterfly Effect. There are a lot of small bits of the book that, from a omniscient narrator, we learn of random characters lives throughout the story. These small pieces of the book are seemingly random until you realize that they are all connected to one another in some way or another and that, without knowing it, they change someone else's life with even the smallest of gestures—whether it be in a negative way or a positive. It's something that fascinates me, so I love reading books with an element such as this.

All in all, this was a lovely book! The characters are extremely well built; very multidimensional. The diversity was great. The romance was pleasantly surprising and well-written. For a plot that takes place in just twelve hours, the book is surprisingly detailed and easy to become hooked into. I was crying and laughing, and I loved it. I definitely recommend this book!