.......................................................................................................................................................

.....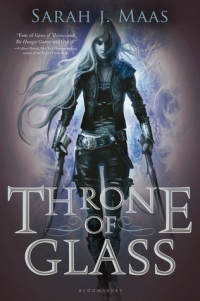 Title:
Throne of Glass
Series:
Throne of Glass #1
Author: Sarah J. Maas
Genres: Young Adult, Fantasy, Romance
Pages: 404
Pub Date: August 02, 2012
Publisher: Bloomsbury USA
Book Source: Personal collection
My Rating: 3 of 5 stars
Synopsis: In a land without magic, where the king rules with an iron hand, an assassin is summoned to the castle. She comes not to kill the king, but to win her freedom. If she defeats twenty-three killers, thieves, and warriors in a competition, she is released from prison to serve as the king's champion. Her name is Celaena Sardothien.

The Crown Prince will provoke her. The Captain of the Guard will protect her. But something evil dwells in the castle of glass--and it's there to kill. When her competitors start dying one by one, Celaena's fight for freedom becomes a fight for survival, and a desperate quest to root out the evil before it destroys her world.
- - -
Okay, a few things before I begin:

A.) I have read the second book and am in progress with the third SINCE I rated this book. The three star rating stands with this book, though, and my review reflects that and that alone. I enjoyed the second book SO MUCH and so far, the third book as well.

B.) Part of my issue with this book has sort of been "resolved" with the release of The Assassin's Blade, but you shouldn't have to go read a prequel/set of short stories, etc. to understand the MC's past. It should've been explained in this book at least to some extent.

C.) My opinion is just that—an opinion.

Onto the review!

Okay, so my biggest issue with this book was the fact that Celaena is built up to be such an extreme badass that I expect her to actually be one! We start this book off with Celaena being in prison, if you will, for being a famous and widely feared assassin, right? Well, that's cool and all, but how are we supposed to really understand her badassery and the fear people have of her when it isn't explained AT ALL; when we don't get to see any examples of it? The third-person narrative just tells us she is a scary assassin and doesn't actually back it up with anything. Couldn't we at least get some flashbacks or something?! We only see Celaena as a weakling, to be quite frank, and as the prince's/king's bitch. She's supposed to be the heroine, yeah? Buuut....how though? Again, I know she becomes more awesome down the road in the series, but you need to hook your readers in the FIRST book. I think more people were hooked by the romance than the actual idea of Celaena being an amazing heroine. *shrugs*

As for the romance. I liked this part of the book. I, for one, enjoy a good love triangle or square. I think it brings an extra element of drama to the story and it was done well in this book. Chaol pining away for Celaena in the background while Dorian's punk ass gets all the attention? Humph! For the record? I was team Chaol all the way. It was so obvious that he was falling for her. I am still team Chaol.

The fantasy. I have seen a few people mention that they didn't think this book had a lot of actual fantasy in it, and I agree, but in this case I think it had just enough. With this being the first in a series, I am okay with getting just a taste of the fantasy and magical aspects of the series. The author gave me just enough to keep me wanting more, and I liked that.

The narrative is another negative for me. I loathe 3rd-person omniscient narrators. LOATHE. This book was no exception. I understand why this was done, as there are many POV's here as well as things going on in the background. It is very movie-like and dramatic to do it this way, but damn I hated it. I had to get used to it, and as I am reading the third book right now I am merely tolerating it. This sort of narration just creates a disconnect for me. Meh.

Overall, this book was good. I think it needed just a bit more to hook me, personally. The only reason I read book two was ALL of the hype and recommendations from people on Goodreads. Everyone promised me it would get better, and they were correct. If I wasn't a GR member, I probably wouldn't have moved into the the next installment. Just saying. The romance was good. I liked the angst. I enjoyed the fantasy bits. I liked that the story is an epic/high fantasy and that it is being done well. I just wish the MC had more backstory and was a bit more strong. She was weak and didn't really have a moment. I am continuing the series as I write this, so I can definitely say it gets much better after the first book.