.......................................................................................................................................................

.....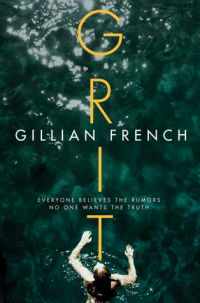 Title:
Grit
Author: Gillian French
Genres: Young Adult, Contemporary, Mystery
Pages: 304
Pub Date: May 16, 2017
Publisher: HarperTeen
Book Source: Publisher sent for review
My Rating: 4 of 5 stars
Synopsis: His presence beside me is like heat, like weight, something I've carried around on my back too long.

It's summer in rural Maine; when seventeen-year-old Darcy Prentiss isn't raking berries with her sister, Mags, and cousin, Nell, during the day, she's drinking and swimming with the boys in the quarry by night. She knows how to have a good time, just like anyone else, but when you've been designated the town slut, every move you make seems to further solidify your "trashy girl" reputation.

But the fun is what's been keeping Darcy's mind off the things she can't forget: a disturbing secret she shares with Nell, the mysterious disappearance of her ex-best friend, and that hazy Fourth of July party that ended with Darcy drunk, on her back, wondering how she let it get this far.

Then someone in town anonymously nominates Darcy to be in the running for Bay Festival Princess—a cruel, almost laughable gesture that can only be the work of someone with a score to settle. Everything Darcy has been trying to keep down comes bubbling to the surface in ways she wasn't prepared to handle…and isn't sure if she can.
- - -
Alright, here we go!

This was my FIRST read of 2018, and I was happy with it!

Grit takes place in a small town in Maine. Our protagonist is 17-year-old Darcy. It is the summer before senior year and Darcy is trying to focus on her summer job raking berries and dealing with her family drama.

Darcy is seen as the town "slut"—a title I am not really sure she even earned. It seems as if she really only had sex with a few boys, if even that. I suppose it has something to do with the guy the focus is put on in the book—a popular idiot who thinks it is cool to brag about having sex with a drunk girl who may not have even said yes to him. Just saying. I haven't seen anyone mention this in a review yet, but it's sort of a big deal that the jerk may have raped her. However, it wasn't a focus in the book. He's basically just a fuckwad that taunts Darcy throughout the book about the ONE TIME they had sex/fooled around.

Anywho, Darcy gained a bad rep from this and is frequently slut-shamed in the book, and not just by her peers. She is even denied a job due to her reputation around town—the owner calling it a "family" business. Ugh. If you don't know this about me, I loathe slut-shaming. I find it an absolute disgusting double standard. Needless to say, I immediately had a soft spot for Darcy. She is a great character. Even with all the crap she gets, she is a strong female lead. She doesn't really care what people say about her and is able to remain strong through most of it.

Now, this book revolves around a mystery. A girl (who happens to be Darcy's ex-best friend) went missing the previous summer. They never found her and they never had any leads to follow. This plot is intermixed with Darcy's personal plotline. Someone she knows is involved and it is quite the twist!

As for the mystery itself, it was well done! I do think there were some loose threads, but overall, things were wrapped up pretty well. The build-up was fantastic and paced nicely. I was definitely in whodunit mode.

There is also a budding romance in this book. Darcy meets a boy at her summer job and things start to go in a direction she isn't used to. Being coined the town slut, understandably so, makes it tough for Darcy to gauge whether or not a guy just wants her for more than just sex. Thankfully, this guy is a good one. The romance isn't really a part of the main storyline, but more of a supporting plotline. It just makes things a little more interesting. I liked the addition.

Overall, this book is about secrets. Family, town, interpersonal—secrets and lies running amok. I enjoyed the book. I was pretty invested in Darcy as a character and I think she was able to come out on top in the end. Learn a lesson or two, and all that. I definitely recommend it if you enjoy a YA contemporary with a couple of plots twists and a bit of romance.