...............................................
....................................................
....................................................
.....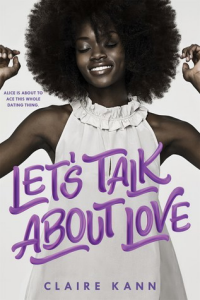 Title:
Let's Talk About Love
Author: Claire Kann
Genres: New Adult, Contemporary, LGBTQIA+
Pages: 288
Pub Date: January 23, 2018
Publisher: Swoon Reads
Book Source: Publisher via NetGalley
My Rating: 3.5 of 5 stars

**POSSIBLE SPOILERS**
Synopsis:
Alice is secretly asexual, and that's the least important thing about her.
She's a college student, has a great job, amazing friends, and is fine being single—nope, that's a lie. Alice wants rom com-grade romance: feels, cuddling, kissing, and swoons galore—as long as it doesn't lead to having sex.
After her last relationship ends with soul-crushing parting words from her ex, Alice swears off relationships for good. Stick a fork in her, she's done. Everyone Alice tries to date is so sure love and sex have to go together, and there doesn't seem to be any way to convince them otherwise.
But when Alice experiences instant attraction for the first time with her coworker Takumi, she doesn't know what to do. If Alice tells him the truth, it can only end in heartache. But there's something about Takumi that makes him worth the risk…
- - -
Let's Talk About Love is likely the most diverse book I've ever read. Not only is the protagonist asexual, but also a woman of color, and biromantic. And her love interest? Japanese. Lovely! Did you all think 2017 was the year of diverse books? Nah, it's 2018.

So, the book starts off with a bang. Alice is getting dumped. Her girlfriend just bursts into their shared dorm and drops the news on her in two seconds flat. Alice is shocked, and also not shocked. She knew her asexuality was the issue. Margot (the now-ex) is not aware of her asexuality and the reason for that is that Alice knows Margot wouldn't understand it. This is obvious because of the fact that as she is dumping her, Margot basically tells her she isn't "normal"—gosh, what even IS normal anymore? Get into the present, Margot. *eyeroll*

Anyway, so we begin the story with Alice being heartbroken and feeling pretty negative about her situation. She has two amazing best friends that support her and are there for her. I loved the dynamic between the three of them (her two best friends, Ryan and Feenie, are a couple). They are like family to each other and they have adorable traditions and I just love it. Near the middle of the book, the three of them do begin to struggle with their three-way friendship a bit and this really adds a lot to the story. I think it fit in perfectly; it highlighted some of the flaws in our protagonist and allowed her to come to admit these flaws to herself and grow as a person. Top-notch character-growth right here. A+++ on that front.

The actual diverse aspect of this book, in the sexuality sense, was tough for me at first. I had to remember that just because someone is asexual doesn't mean they can't be attracted to someone in other ways—such as aesthetically or romantically, as in the case of Alice. I consider myself to be a part of the LGBTQIA+ community, but I am still a sexual human being. I am just gay. It is pretty simple for me, you know? I had to put my brain outside the box and really try to understand, because you need to do this to understand Alice and to get how she feels. I feel very enlightened after reading this book. The author did a fantastic job of explaining asexuality and biromaticism. I will admit ignorance when it comes to some of these things. I am but a mere lesbian in this world of diverse and interesting humans.

The romance aspect of this book was great, and pretty important. I appreciated that the author truly let Takumi and Alice get to know each other and actually begin to fall in love, rather than just WHAM—instalove, you know? These two spent a lot of time together and really got to know each other. If course, Alice hid her asexuality for a long time, but this is understandable. She needed to do that so we, as readers, could see how tough it can be for someone to come out about this. She and Takumi had to be close, had to be invested in each other already, for us to really feel Alice's fear at the possibility of Takumi's rejection. It was an emotional rollercoaster near the end, I have to admit.

Throughout the book, we also watch Alice struggle with her plans for the future, school and career wise. Her parents are pressuring her to go to law school...which Alice isn't too keen on. This element of the story wasn't really necessary in my opinion. It was just sort of throw-away.

The book also moved a bit slow for my liking. I think this was, in part, due to the multiple subplots being laid out and tied up. It wasn't too bad, but something to note. It just dragged a little in the middle of the book.

Overall, this book was great! I thoroughly enjoyed Alice as a character. She is so damn quirky, unique, and memorable. I will never forget her. She is definitely the most diverse character I've ever come across and her personality is lovely. The romance was well thought-out and very true to what I think a real-life situation would be like for someone like Alice. The dynamics between all of the characters were amazing and the story was, overall, very enlightening and interesting. I am very happy I read this book and learned from it as well. I definitely recommend this one!
...............................................

....................................................

....................................................

.....

CLICK HERE TO VIEW THE TOUR SCHEDULE
PURCHASE LET'S TALK ABOUT LOVE
:
Amazon • B&N • Kobo • iBooks • TBD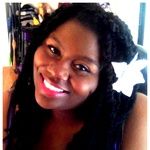 ABOUT THE AUTHOR
Claire Kann hails from the glorious Bay Area where the weather is regrettably not nearly as temperate as it used to be. She has a BA in English/Creative Writing from Sonoma State University, works for a nonprofit that you may have heard of where she daydreams like she's paid to do it. LET'S TALK ABOUT LOVE is her debut novel.
a Rafflecopter giveaway