.......................................................................................................................................................

.....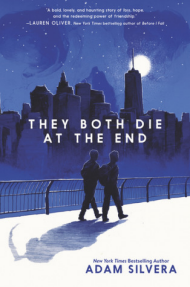 Title:
They Both Die at the End
Author: Adam Silvera
Genres: YA, Contemporary Romance
Pages: 384
Pub Date: September 05, 2017
Publisher: HarperTeen
Book Source: From the publisher for review
My Rating: 4.5 of 5 stars
Synopsis: On September 5, a little after midnight, Death-Cast calls Mateo Torrez and Rufus Emeterio to give them some bad news: They're going to die today. Mateo and Rufus are total strangers, but, for different reasons, they're both looking to make a new friend on their End Day. The good news: There's an app for that. It's called the Last Friend, and through it, Rufus and Mateo are about to meet up for one last great adventure and to live a lifetime in a single day.
- - -
They Both Die at the End takes place in a contemporary world where people get something like a "courtesy" call on they day they are going to die. Death-Cast can and will predict when you will die down to the day. The time and cause aren't something they can tell you, so people usually end up spending their last day one of two ways: in fear or living it up. Which would you choose?

This book primarily follows two teen guys that both received the call on the same day. They both use an app called the Last Friend App to find each other. People use this app to connect with those dying that day. Some people use it for hook-ups, to help others, or just to find someone to spend their last day with—sometimes, as in the case of Mateo and Rufus, this person understands exactly what the other is going through.

Mateo and Rufus are amazing characters. They are very different from one another. Mateo is sweet and shy, while Rufus is outgoing and a little rough. The two teens strike up a friendship due to the fact that they both have one day to live, therefore no time to be picky. They each have their of respective reasons why they aren't with family or their usual friends. Their friendship turns into more, of course. This is one of the things I loved about this book.


You may be born into family, but you walk into friendships. Some you'll discover you should put behind you. Others are worth every risk.

The romantic aspect of this book literally sneaks up on you. Mateo and Rufus are going about their last day, doing the things you do, ya know... saying goodbye, taking risks, living life without restraint, trying new things, etc. when all of a sudden it just hits you. They like each other, like... like likeeach other! I cannot. FIRST OF ALL, can we just commend Adam Silvera for literally always having diverse characters? LGBT, different races, cultures... he just always gives us a great array of diverse characters and lifestyles. Amazing.

Back to the boys. The romance was insta-love. I mean, it sort of had to be, right? Because do not be too hopeful, they do both die at the end. The title prepares you. Don't expect a miracle, because you will be disappointed. This book will wreck you. The romance is beautiful and it is insta-love in the best, most unexpected way possible. I never thought a book that spans only one day could snag every single one of my heartstrings and break each one into pieces by the end of the book.

I realize I am rambling but, even after sitting on this review for a day, I cannot completely gather my thoughts and place them into an organized review, lol...

The plot? Thought-provoking and to the point. It will bring forth all sorts of existential questions and a ton of feels. It shows you the small ways peoples' lives can cross paths and how you never truly know when your last moments will be OR how much just a tiny thing you do can affect someone else's life.
Characters? Amazing. Extremely well built and personable regardless of the timeframe the book is set in.
Romance? Astoundingly moving and beautiful. The depth was surprising but realistic.

My ONE AND ONLY con is that there were a couple of loose ends. There were a couple points of view that we followed but never got an ending for. Not main characters, and I think these side stories had another purpose entirely, but I still wanted to know what happened. No biggie, but something to note.

All in all, you need this book in your life. End. Of. Story.