.......................................................................................................................................................

.....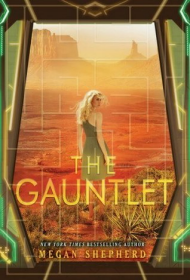 Title:
The Gauntlet
Author: Megan Shepherd
Genres: YA, Science Fiction, Aliens
Pages: 352
Pub Date: May 23, 2017
Publisher: HarperCollins
Book Source: Publisher via edelweiss
My Rating: 4 of 5 stars
Synopsis: Cora and her friends have escaped the Kindred station and landed at Armstrong—a supposed safe haven on a small moon—where they plan to regroup and figure out how to win the Gauntlet, the challenging competition to prove humanity's intelligence and set them free. But Armstrong is no paradise; ruled by a power-hungry sheriff, it's a violent world where the teens are enslaved and put to work in mines. As Nok's due date grows closer, and Mali and Leon journey across space to rescue Cassian, the former inhabitants of the cage are up against impossible odds.

With the whole universe at stake, Cora will do whatever it takes, including pushing her body and mind to the breaking point, to escape Armstrong and run the Gauntlet. But it isn't just a deranged sheriff she has to overcome: the other intelligent species—the Axion, Kindred, Gatherers, and Mosca—all have their own reasons to stop her. Not knowing who to trust, Cora must rely on her own instincts to win the competition, which could change the world—though it might destroy her in the process.
- - -
The Gauntlet is the final book in The Cage series, and I have to say I was pretty satisfied with the end of the trilogy!

The book picks up pretty much immediately after the events of The Hunt. Cora has escaped and Cassian is captured. A ton of revelations took place near the end of The Hunt, so I was pretty anxious to get my hands on this book!

**POSSIBLE SPOILERS AHEAD!**

Likes:

• Cora really grew as a character in this book. She went from a follower to a leader and was strong enough to participate in the Gauntlet and BEAT IT. Cassian sort of took a backseat in this book as the "hero," giving Cora the spotlight.

• The supporting characters were essential to the story overall. Supporting characters, both new and old, played key roles in the book and the overall end of the story. I was especially impressed with how much I fell in love with Bonebreak. That little bastard surprised the crap out of me.

• The actual Gauntlet Cora participated in was SO interesting. I actually wasn't expecting Cora to have to run the Gauntlet. I expected something to happen to thwart her plans or something, but nope, she had to do it and she did it well. The puzzles and mindfuckery of the Gauntlet really added a freaky element to the story. I also like how the Gauntlet itself is intelligent and thinks for itself.

• I have a love/hate relationship with the end of the book. Let me tell you what I loved first. I loved that Megan Shepherd isn't afraid to kill characters off. This always impresses me if done at the right time in and in the right way. Not only did she kill Lucky in the previous book, but she killed off a main character in this one as well. I also liked that Earth still existed and that although this was the case, some of Cora's friends chose to stay behind and make a home where they were.

This brings me to my ...

Dislikes:

• Unlike her friends, Cora decides to go home to Earth. :( Yeah, this ending could be considered a road-less-traveled, but I hated it. I am a romantic and I wanted her to stay behind with Cassian. I get that she has family and yadda yadda yadda, but but... IT IS LOVE! I'm a baby. Wah. *pouts*

That is really the only thing I wasn't a fan of. Aside from this tiny detail in the end, everything was amazing.


The wolves are strong. But the rabbits are clever.

Overall, I loved it. There were a ton of plot twists and even more revelations in this book than the last! It was definitely a jaw-dropper. Cora and her friends grew and morphed into awesome people who essentially saved the universe and stopped interstellar war. Pretty badass, if you ask me. It was a satisfying ending to a trilogy I have adored keeping up with. :) Definitely recommend the series as a whole!