.......................................................................................................................................................

.....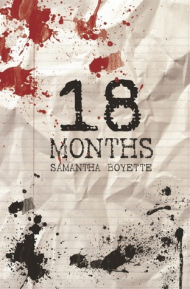 Title:
18 Months
Author: Samantha Boyette
Genres: YA, Contemporary, LGBT, Mystery
Pages: 240
Pub Date: December 13, 2016
Publisher: Bold Strokes Books
Book Source: Publisher via NetGalley
My Rating: 3.5 of 5 stars
Synopsis: Alissa Reeves came out for Hannah Desarno. Hannah is smart, beautiful, and has just gone missing. Worse, she isn't Alissa's first girlfriend to disappear. Eighteen months ago, Alissa was caught kissing bad girl Lana Meyers. Too scared to admit her feelings for Lana, Alissa let her friends blame Lana. Weeks later when Lana disappeared, no one in their small town thought much of it until months later when her body was found.

With Hannah gone, Alissa finds herself following clues that will help her discover what happened to both girls, and the truth will change everything.

- - -

THE BAD

Well, there wasn't really anything too bad about this book; it's more just mediocre. It's good, but not great.

The mystery set-up was thorough, but a little obvious in my opinion. I guessed what was happening pretty early on—there are some pretty obvious hints about what is going to happen. I don't think they were nestled away well enough within the storyline for them to be NOT obvious. The author did, however, divert my attention a couple of times with other suspects, which was great, but not quite enough to make me second-guess what I already believed to be the truth about the killer/kidnapper.

As with the mystery plot, the ending was expected and a bit rushed.

THE GOOD

Let me preface this by saying I am gay myself, so I can relate to this next bit on s personal level.

I think the portrayal of homophobia was pretty spot on. Alissa faces this at home as well as in school. Her mother is one of those mothers all gays hope won't turn out to be theirs. IT'S A PHASE. Obviously it could be worse—her mother could kick her out of the house, disown her, and damn her to hell. This is, at least, straightforward. Mom believes you're gay, but hates it. The PHASE parent is shitty to a different extent. Alissa tells her mother she is gay, but her mother discredits and disrespects her by just blowing it off as a phase and continuously trying to push her (quite obviously) toward guys.

As for the students at school... once Alissa and Lana are discovered by the "popular" girls, all hell breaks loose. Alissa makes some bad decisions based on the fact that said popular girls are HER FRIENDS. They are extremely homophobic, and not only that, but Lana is of the "quiet goth girl" stereotype. Alissa's friends concoct a lie basically blaming the entire thing on Lana being a pervert and Alissa, fearing for her reputation, goes along with it. Peer pressure and all that. Dyke this, dyke that. Etc, etc. The author wrote it well.

The characters were also very well-written. I think I was impressed with that most of all. Even Lana and Hannah who weren't in the present-tense of the book, were pretty stand-out in their personalities. Very well done.

OVERALL

18 Months is a quick mystery/thriller read. It's set up pretty well, but a little predictable. Technical flaws, if you will. Easy to overlook though, considering the characters were so well presented as was the realism in relation to Alissa's life experiences as a gay teen and just a teen in general. I would recommend it for sure, especially if you enjoy LGBT reads or straightforward mysteries.