...............................................
....................................................
....................................................
.....
Title:
Because of the Sun
Author: Jenny Torres Sanchez
Genres: YA, Contemporary, Family
Pages: 272
Pub Date: January 03, 2017
Publisher: Delacorte Press
Book Source: publisher for review
My Rating: 5 of 5 stars

**POSSIBLE SPOILERS**
Synopsis:
From the backyards of suburban Florida to the parched desert of New Mexico, "Because of the Sun" explores the complexity of family, the saving grace of friendship, and the healing that can begin when the truth is brought to light. Dani Falls learned to tolerate her existence in suburban Florida with her brash and seemingly unloving mother by embracing the philosophy "Why care? It will only hurt." So when her mother is killed in a sudden and violent manner, Dani goes into an even deeper protection mode, total numbness.
- - -
Let me first tell you that I devoured this book in 3 hours. I took one bathroom break but that is IT. I was glued to the pages. It wasn't necessarily because it was an edge-of-your-seat type of story, but because the protagonist, Dani, was so hypnotizing.
Dani feels as if she's never had a real place in the world. Dani isn't your typical, clichéd, angsty teenager. She's had a tough life thanks to her verbally (and sometimes physically) abusive mother. Her father is absent. It has always been just Dani and her mother. Until her mother is mauled by a bear and dies a bloody death. It sounds harsh, but the author portrays the attack with a slight air of aloofness—and slight comedy. It is
so
slight that you may not even notice it, but I totally did. Like just the idea that your mother is outside sunbathing topless... and dies by bear attack. It's outlandish, really. I liked that the author gave me a few smiles with this.
Dani is sent to live with an aunt she never knew existed. Her mother always told her she had no family, so the mere existence of said aunt was a shock. Moving from Florida to New Mexico is also a shock. Dani meanders through the process of moving with silence, numbness, and disbelief. The entire situation has a dreamlike feel to it. There is little actual interaction between Dani and her aunt Shelley until almost the end of the book.
While Dani is in New Mexico she, of course, meets a boy. Now, don't freak out. Again, this author took the story in a different direction than I would've originally thought. Instead of going the usual route of boy-saves-girl-from-(insert something bad or depressing here), she simply makes this guy a friend to Dani. Yes, they share a kiss, but this doesn't magically make her get over her mother's death or the confusion that comes with trying to mourn someone who treated you like crap.
NO.
Getting through day after day, moment after moment, making friends, getting to know her aunt—and her mom
through
her aunt—is what helps Dani to heal.
Somewhere near the 2/3 way point we flashback to the past. Aunt Shelley tells us the story of herself and Dani's mother. Their life was awful. Their mother and father were dysfunctional and some terrible things happened to them. This flashback brings to light the reason Dani's mother ended up being the abusive person she was. We also learn a little about Dani's father. I won't spoil anything here, but it all makes sense after you read this. You can then play devil's advocate.
On a side note: Dani sees this bear that killed her mother ALL THE TIME. It's a hallucination/dream/etc., but she sees it and there is a ton of symbolism in why this is so. The bear sometimes just stands there menacingly, while other times it growls or even speaks. I think this gave a strange but interesting aspect to the story.
Overall, I enjoyed this book so much! It is a new favorite of mine. I think the characters were well built and the plot was fleshed out nicely. Both things were done in a new, fresh manner (in my experience). The story is told in a dreamlike fashion with beautiful prose and wonderful symbolism. The book really showcases relationships—those between parents and children, husband and wife, siblings, friends, and more. I appreciated the message I received from the story and the ending was perfect.

...............................................

....................................................

....................................................

.....
PURCHASE BECAUSE OF THE SUN:
Amazon
•
B&N
•
Kobo
•
IndieBound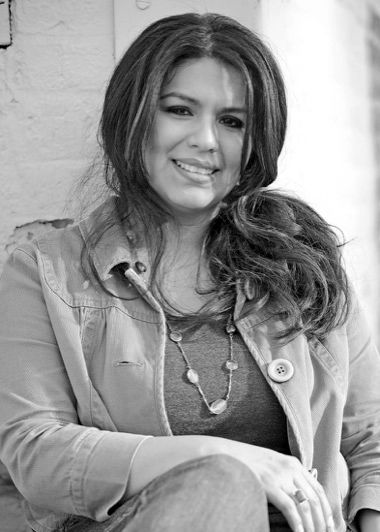 About the author
JENNY TORRES SANCHEZ is a full-time writer and former English teacher. She was born in Brooklyn, New York, but has lived on the border of two worlds her whole life. She lives in Orlando, Florida, with her husband and their children. Because of the Sun is her third novel.