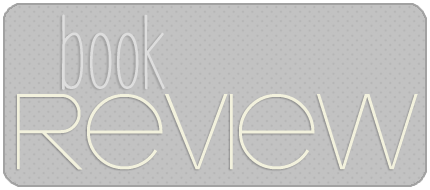 ...............................................
....................................................
....................................................
.....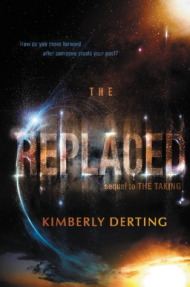 Title:
The Replaced
Series: The Taking #2
Author: Kimberly Derting
Pages: 368
Pub Date: April 28, 2015
Publisher: HarperTeen
Book Source: Publisher via edelweiss
My Rating: 4 of 5 stars

**POSSIBLE SPOILERS**
*This review will contain spoilers for The Taking (book one in this series)!*
Synopsis (via Goodreads):
Kyra hasn't been the same since she returned from her mysterious five-year disappearance. Now, on the run from the NSA, Kyra is forced to hide out with others who, like her, have been Returned. Yet she is determined to find Tyler, the boy she loves who was also abducted—all because of her. When her group intercepts a message that Tyler might still be alive but is in the hands of a shadowy government organization that experiments on the Returned, Kyra knows it's a risk to go after him. What if it's a trap? And worse, what if the returned Tyler isn't the same boy she lost?
- - -
Eighty-four minutes. That's how long it had taken us to cause an explosion, break into a secret NSA lab... and lose one of our own.
The first chapters of
The Replaced
are a whirlwind. An amazing whirlwind.
Actually...
The entire book is a whirlwind! Can I just say... I was very much anticipating this follow-up and Kimberly Derting did
not
disappoint!
Backtracking, for those of you who are foggy on book one, let me refresh you. This goes without saying, but just in case:
SPOILERS FOR BOOK ONE AHEAD!!
Alright, in a nutshell? Kyra was abducted. She reappeared five years later with no memory of what happened. As expected, Kyra is quite shocked—as are her friends and family. Her boyfriend and best friend are together. Her parents are divorced; mother remarried, father insane. Kyra falls in love with the boy next door. She and him have a wondrous romance complete with sappy bits of dialogue and cutesy acts of adoration. Kyra finds out she is changing; but also not changing. Not aging. Healing rapidly. Moving things with her mind. She also has toxic blood. Blood which Tyler, the new love, comes into contact with. The only way to save Tyler is by letting him be abducted. This is all found out through a group of Returned just like Kyra. In the end, Tyler is abducted and Kyra is left reeling from this coupled with the disappearance of her father.
Jump to The Replaced.
This book takes place within just days/a couple weeks of the first one. Tyler is gone and Kyra has received a shady message from someone that may just be her missing dad, saying that the NSA has Tyler. This is bad-news-bears due to the fact that the NSA wants to experiment and/or kill people like Kyra and the other Returned. They swoop in, things are not what they seem, etc. etc.
What I loved about the beginning of this book is that the author did not waste any time. She charged head-first into the good stuff. She just dropped me right in the middle of a hellstorm. This not only includes a kickass opening chapter, but a steady pace from cover to cover. Never a dull moment. Something always gripping; always holding you captivated. Not just words on a page, but a series of events that you can feel and almost touch.
The action is palpable, and so is the romance. When Kyra and Tyler are finally reunited, things are shaken up even more by a crazy twist. Tyler doesn't remember the events leading up to him being taken. He doesn't remember Kyra coming back after the five year disappearance OR them falling in love. This throws Kyra into a haze of emotional discord and confusion. To tell, or not to tell? Is the time right? Will it ever be right? Will he remember on his own? Derting also throws the curve ball of Simon having a thing for Kyra. Love triangle? NO NO NO. This was my only complaint about The Returned. I feel like the love triangle with Simon really dulled the bond we were supposed to see between Kyra and Tyler. I feel like this was a mistake... but things were left slightly in the air, so maybe there is a reason for this that I cannot yet grasp, because Kimberly Derting clearly likes to shake things up.
A huge part of the plot is focused on Kyra's group of Returned constantly running from agent Truman and the rest of the NSA group tailing their every move. Every time these guys turn around, there the NSA is, breathing down their necks and trying to kidnap Kyra above everyone else. The story follows the group from place to place, and this creates fantastic new elements within the story. Not only that of bonds between current characters, but brand new characters altogether. I was very impressed with the new additions as well as the plot twists they brought with them. Get ready to pick up that jaw when it falls to the floor!
Lastly, along with the action and romance comes
knowledge
. We learn some answers to the who and the why questions we were left with at the end of
The Taking
. The aliens and the government and what they were up to. Who was involved and
why
. Why Kyra is different from the other Returned...
"My dad liked to talk.
When I was one of his subjects...
...both sides wanted all along was to create a replicate...
Not a hybrid, but...
It was what they referred to as Replacement."
Overall,
The Replaced
was a hit! A complete hit. The romance was a little off-kilter, but still fantastic in an overall sense. The action and pace were
ON POINT.
The use of plot twists was exceptional and perfectly timed throughout the book. The characters developed very well and I also enjoyed the new ones I got to meet. Derting wrapped this one up with yet another cliffhanger to keep you waiting with bated breath. I am stoked for the final book in this trilogy so I can see where this roller coaster ends! If you were at all a fan of
The Taking
, I highly highly HIGHLY recommend reading this second book. If you haven't read either? What are you waiting for?! I promise you will not be disappointed. It has a little of everything and is age-appropriate for the YA genre. I hope you'll check it out!

...............................................

....................................................

....................................................

.....
PRESENTED BY MMSAI TOURS / CLICK HERE TO VIEW THE TOUR SCHEDULE
PURCHASE THE REPLACED:
Amazon
•
B&N
•
Kobo
•
Books-A-Million
About the author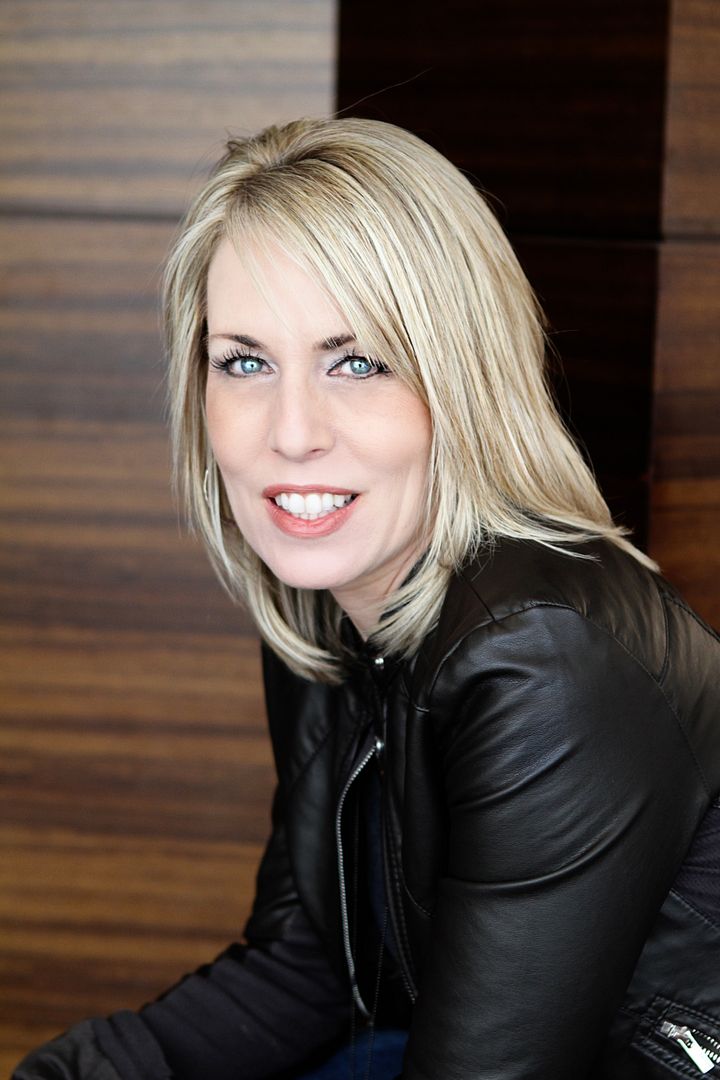 Kimberly Derting is the author of the award winning THE BODY FINDER series, THE PLEDGE trilogy, and THE TAKING and THE REPLACED (the first two books in The Taking trilogy). Her books have been translated into 15 languages, and both THE BODY FINDER and THE PLEDGE were YALSA Best Fiction for Young Adults selections.
She lives in the Pacific Northwest, where the gloomy weather is ideal for writing anything dark and creepy. Her three beautiful (and often mouthy) children serve as an endless source of inspiration and frequently find things they say buried in the pages of their mother's books, or on Twitter for the world to see.
a Rafflecopter giveaway