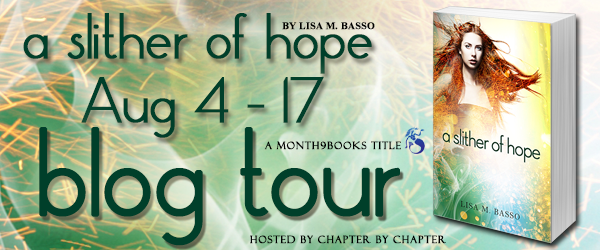 ..........................................................................................................................................................

A Slither of Hope
by Lisa M. Basso
ANGEL SIGHT BOOK TWO
Rayna struggles to piece her life back together, but hiding in plain sight from the police, the SS Crazy, and the Fallen isn't a foolproof plan—something Kade, the World's Worst Roommate, reminds her of everyday. The late nights of failing to teach Ray how to protect herself against the Fallen are getting to Kade, changing him in ways he doesn't like, and after a family emergency sends Ray back into Cam's arms, Kade decides he's had enough. News of Rayna's resurfacing brings both angels and the Fallen to San Francisco by the dozens, all eyes scouring the city for the girl with the gray wings. Rayna will need both Kade and Cam's help to ensure her family's safety, navigate the new dangers and enemies springing up all over the city, and manage the surprises that arise with her new set of wings.
★
Age Group/Genre:
Young Adult, Paranormal
★
Publisher:
Month9Books
..........................................................................................................................................................

ONE OF LISA'S FAVORITE SCENES
One of my very favorite scenes from A Slither of Hope comes from the end of the first chapter. The beginning of the book shows Ray trying to sink back into normal life after everything she knows has been ripped from her. In this scene, Ray is meeting Lee (her best and only friend) at a neutral location. She's excited to see him, but after nearly a month of no contact, she's also anxious and doesn't know what to expect.
(Beware, there are major spoilers from A Shimmer of Angels below. If you haven't yet read the first book, you've been warned.)
I rubbed my knuckles together in the hopes a single nerve would fire again, careful not to spill the two hot chocolates in my hands, and I breathed into my violet scarf, trying to avoid the pit of fear in my stomach due to standing just above the freaking bay. My stomach quaked, chest pounding. Why did it have to be water?
The longer I stood staring at the forty-foot-high Christmas tree, the more people gathered around it, ghosting through my wings, leaving me chilled to my soul. To avoid being swallowed by the crowds, I was constantly stepping back and to the left. Freezing cold air blew off the water of the bay surrounding Pier 39, not only cooling the surrounding area, but leaving it damp as well. I bumped my knees together, reminding myself to get a thicker winter jacket with my next paycheck, and make Lee promise I'd never have to meet him anywhere near the bay again. I brushed my arm over the book in my pocket, the one I carried everywhere with me, wishing I could leave my fear behind and lose myself in my favorite story instead of braving the outside world.
A group of men and women, all in red and white Santa hats, took to the stage in front of the massive tree and began singing "Joy to the World". Red, gold, and silver ornaments twinkled and ribbon bows dripped off the tree that was scheduled to be lit in ten minutes, according to the announcer.
Holding a tree lighting celebration before Thanksgiving seemed odd after the non-festivities both in Safford and at the SS Crazy, where religious holiday celebrations are considered insensitive to the other patients. It must have bumped up the shopping in the area—it certainly drew a crowd.
A hip bumped mine and almost toppled me over. So obviously not in the holiday mood, I turned to scream "watch it", but found Lee by my side. A black and white snowflake beanie covered up his trademark spiky hair, and his black jeans fit closer to his body than usual. A pair of brand-name shoes covered his feet, plus he had new frameless glasses. Gone were his favorite square black frames, zip-up hoodie, and worn-out Vans. It was official: Lee had been swept away by a T.A.R.D.I.S. and replaced by a hipster.
"I'm glad you showed." I handed him the H.C. with extra whipped cream. I purposely trucked several blocks out of my way to Ghirardelli Square so when we met I could hand him only the best. "When I posted on your wall, I wasn't sure."
This whole time I'd been trying to conceal my nervousness, confident that our friendship could withstand anything. Time, mistruths, even death. But now, I got the feeling I was overshooting.
This is good
, I tried to convince myself. Honesty is good, and a steppingstone to opening communication, which leads to understanding. I could still hear Dr. Graham's therapy sessions in my head.
"Your dad told my mom that you were …"
"Crazy," I filled in, hardening myself to the unexpected mention of both my dad and my mental status. The burst of coldness from the pier under us chilled my heart a little, too.
Lee's hand tapped against his favorite drink, the one he hadn't taken a sip of yet.
He hadn't even looked me in the eye either. This was a mistake. I should have left him out of this, given us a clean break. He deserved at least that after Azriel's possession, which nearly caused him to commit suicide.
The carolers finished their song with too many flourishes. Farther down the pier, I could hear a jazz quartet playing … the same freaking song.
"Why didn't you tell me?" he finally asked.
I took a swallow of what was now thick, tepid chocolate. "Because I wanted to start my life over."
"I get that, at first, but why not tell me later?" In my peripheral, I saw him turn his head to look at me.
"I see angels. That's why they locked me up. Do you think that's fair?" After his run-in with Azriel, Lee had admitted to seeing his wings. Though there was no telling if that had been wiped from his mind somehow or if it had been suppressed. It was still a pretty big shocker to deal with.
That didn't really tell me if he remembered or not, so I went on, "And I'm assuming you know the cops want me for questioning." Of the three successful suicides at my former high school, I was still a person of interest wanted for questioning in two of the cases. Allison Woodward, who I found the day Cam arrived, and Cassie Waters, the night of the Halloween dance. When she pressed a gun to her temple on the roof of Stratford Independence—and pulled the trigger—right before Az swooped me up and tried to sacrifice me to Hell.
"Yeah, they came by, and urged Mom and I to call if you tried to get in contact."
Worry fluttered in my chest like a trapped bird. I used the breeze, angling my wig so it would cover more of my face. I darted a gaze in every direction, searching for any possible sign of the boys in blue, but there were too many people and the sun was quickly setting, darkening the sky.
"Don't worry. You saved my life. I wouldn't turn you in."
I exhaled a breath I hadn't realized I was holding.
"But I should warn you—" he started, but couldn't finish.
"Hey." Gina Garson waved at us, gracefully maneuvering through the increasingly large crowd beside us. "Sorry, the line for the bathroom was major," she spoke to Lee. Only to Lee. The sweater she wore hung loose, but I could still see a small bump in her stomach. "Really good to see you, Rayna. And nice hair."
The last time we talked, she'd called me a tweaker freak, if I remembered correctly. "Uh, yeah. You too?" I leveled a confused glare at Lee.
What was she doing here? Obviously Lee invited her, but why? What would he be doing hanging out with Luke Harper's pregnant girlfriend? Especially when Luke was one of the main reasons I was wanted by the cops anyway. The night of the Halloween dance, Cam and I saved Luke from ending up a splat on the sidewalk. When the police found him and Cassie's body the next day, he'd told them I was there, the day after I'd escaped from the SS Crazy.
I couldn't help being a little bitter about certain things, Luke and Gina included.
Gina smiled over at Lee. She was just as stylish and fashion-wise as before, but her mocha skin was free of the makeup she used to glob on. She angled her body toward him and sniffed the cup in his hand.
"Ray got us some H.C." He handed her his cup.
She gulped down several sips. "Mmm!" She licked a tiny bit of whipped cream from her top lip and looked at me. "Thanks. I hope we're cool. The last time we talked, I was stressed and snippy. Pregnancy hormones, you know. They're crazy."
I didn't know, not about hormones, but I spent more than my fair share of time being crazy. Still, she didn't appear apprehensive at all about being so close to a wanted—sort of—fugitive. "Uh-huh." This made me wonder what she knew and what she didn't.
"Luke told me you and Cam saved his life. He said he told the police the same thing."
This was news to me. But that wouldn't have stopped the cops from finding my fingerprints all over the crime scene on the roof and on Cassie. "I just wanted to say thank you—and that you look kick-ass. Luke and I aren't together anymore, but when this little bundle is born," she placed a protective hand over her tiny stomach, "it's gonna need a father."
Well. That wasn't at all what I'd been expecting. It seemed Gina and I were on better terms than I was with my own best friend.
Lee smiled the first smile I'd seen on him in almost a month. But it wasn't directed at me. Gina scrunched her nose at him and took another sip of her H.C. I took a step back, feeling out of place and unwanted. Two things I'd never, ever felt around Lee.
My wings jerked, flaring out on their own before returning to a neutral, resting position. Whoa. Weird. Stranger still, an odd hum buzzed at the base between my shoulder blades, amplifying with each passing second. They'd never done that before. The unnerving action spiked my anxiety.
I searched the area. The sky glowed midway between dusk and night, only slivers of the fading light reflecting gold off my wings. Hundreds of people had gathered to watch the ceremony, but I had the tingling suspicion that at least one of them was watching me.
The haunting vibrations didn't subside. I breathed and forced myself to get ahold on the varying levels of insecurity battling their way out of me. For Lee's sake.
He already knew I was nuts. He didn't need a reminder of it.
A group of important-looking people took the stage and started a countdown. Their presence—and them gaining almost the full attention of the entire crowd—helped me push back the reminder of the constant flutter. Everyone in the surrounding area joined in when the group reached ten.
Lee's eyes lit up as he glanced at Gina and jumped in on the countdown.
Gina bounced on the balls of her feet.
The man in the center pressed down the big red button. As the forty-foot tree lit up, I watched Lee's hand brush Gina's and her pinkie twine around his.
..........................................................................................................................................................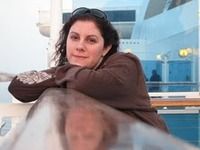 Lisa M. Basso was born and raised in San Francisco, California. She is a lover of books, video games, animals, and baking (not baking with animals though). As a child she would crawl into worlds of her own creation and get lost for hours. Her love for YA fiction started with a simple school reading assignment: S.E. Hinton's The Outsiders. When not reading or writing she can usually be found at home with The Best Boyfriend Fiancé that Ever Lived ™ and her two darling (and sometimes evil) cats, Kitties A and B.
WEBSITE • GOODREADS • TWITTER • FACEBOOK
..........................................................................................................................................................

Please continue on for giveaway details! ;D

a Rafflecopter giveaway
Thanks so much for stopping by!
♥
Happy Reading!
..........................................................................................................................................................