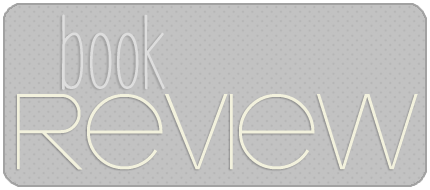 ...............................................
....................................................
....................................................
.....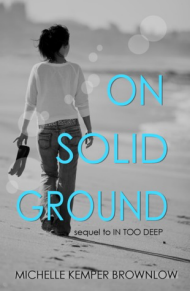 Title:
On Solid Ground
Series: In Too Deep #2
Author: Michelle Kemper Brownlow
Pages: 361
Pub Date: November 14, 2013
Publisher: Self-published
Book Source: From the author for review
My Rating: 4 of 5 stars

**POSSIBLE SPOILERS**
*Will contain spoilers for In Too Deep!*
Gracie is a survivor. She's done with her emotionally abusive ex-boyfriend, Noah, and is ready to move on with her life.
But having immediately jumped into a relationship with her best friend Jake, Gracie wonders if maybe she needs to take a step back and try to stand on her own two feet.
A gorgeous man from Gracie's past pops into the picture to stir things up. Not only does he have feelings for Gracie, but they share a connection that even Jake can't touch.
As Gracie begins to heal and step out of her comfort zone with a new confidence, she also has to sort out her feelings and let go of that last piece of herself that Noah still holds over her.
What happened to me is now a part of me; it always will be. I have scars that won't go away.

Noah stole a piece of me I don't want any part of. He stole a piece of the weak Gracie.
- - -
What a follow-up! I was daunted at first, because Gracie was still in her weakened emotional state thanks to Noah. It took a little extra patience on my part to overlook that. I had to remember that this book is about her healing, and if I was just
patient
, I'd get what I wanted. ;) And I so did!
After finally letting go of Noah, Gracie jumped into a relationship with Jake head-on. This alone was a bad choice. She didn't give herself room to exist beyond a man and a relationship. I was glad when Gracie made the decision to backpedal and try out life without the crutch of her relationship with Jake. She knew she had to heal herself before she could give her everything to Jake and she made the right choice. In that moment, I was so impressed with her. She is such a
real
character! I connected with her on a deep level and I felt her transformation every step of the way. The Gracie in the beginning of the book is
not
the Gracie at the end.
Not only does Gracie go through a change, but Jake as well. This book is told from a dual perspective—Gracie
and
Jake. This was a nice twist versus book one. Getting into Jake's head was a pleasure. It made him more solid and real, whereas in book one, he was sort of blurry for me... Anyway, Jake does some growing of his own. With Gracie out on her own, possibly getting closer to another man, Jake learns to let go of some of his own insecurities and comes to the realization that Gracie can be close with someone else and still love him at the same time.
Their relationship as a whole is taken to an entirely new level in this book. I think it's a transformation anyone would be awed by.
A blast from Gracie's past comes into the picture in the form of Calon Ridge. Calon Ridge is the lead singer for a local band called Alternate Tragedy. Awhile back, Calon and Gracie shared an intimate moment that neither of them has ever quite let go of. When they meet again, Gracie feels that old spark and her feelings begin to muddle up a bit. But the biggest thing Calon brings to the table is
MUSIC
. Gracie loves music. It's an escape for her. It gives her a high like nothing else ever could. With Calon's help, Gracie learns to set her creative side free. I loved this part of the story! I also think Michelle did an amazing job of portraying the feelings Gracie has when singing or playing her guitar, or simply
listening
to music. She gains a freedom through it and it's a palpable thing.
Not only does Gracie have Jake and Calon to help her, but her best friend Becki. Becki deserves a shout out all her own. Her antics and crazy attitude had me laughing out loud all over the place. The little surprise Michelle gave us after the epilogue was one I was praying for! Now I just have to wait... and wait... and wait...
All throughout the book, Gracie is trying to heal. One of the bigger steps she takes is going to see a therapist. With the help of said therapist, Gracie uncovers truths that she never even knew were there. New tragedies rear their ugly heads and threaten to pull her back under. The old Gracie would've lain down and died right there, but not the new Gracie. The new Gracie tackles these new developments head-on and the ending is an explosive one. The ending absolutely
floored
me.
All in all,
On Solid Ground
was everything I wanted in a sequel to
In Too Deep
! Gracie transforms from a weak girl with no self-esteem to a strong, bitchin' rock chick who tells people exactly what she thinks. The romance between her and Jake is as steamy as ever and definitely doesn't disappoint! The pace of the book had a bit of a lull in the middle (hence my 1-star deduction), but if you stick that out, you will not be disappointed. ;) It's an emotional whirlwind of a story you don't want to miss! Michelle Kemper Brownlow delivers a stunning picture of one girl's journey to save herself and shed the layers of pain and insecurity from an abusive relationship. Not to be cheesy, but it reminds me of a caterpillar-turned-butterfly type scenario. ;)
Do I recommend this book? YES! A thousand times YES.

...............................................

....................................................

....................................................

.....

CLICK HERE TO VIEW THE TOUR SCHEDULE
PURCHASE ON SOLID GROUND:
Amazon
•
B&N
•
Kobo
About the author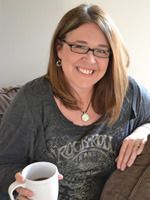 Michelle Kemper Brownlow has been a storyteller her entire life. Her debut was on the high school cheerleading bus granting requests to re-tell her most embarrassing moments for a gaggle of hysterical squadmates.
Earning her Bachelor's degree from Penn State University in Art Education and then marrying her very own "Jake," she moved to Binghamton, NY where she taught high school. After having two children she quit work and finished her Master's degree in Elementary Education at Binghamton University.
The Brownlow family of four moved to Michelle's hometown of Morgantown, PA while the children were still quite young. A few years after moving, her family grew by one when they welcomed a baby into their home through the gift of adoption. The family still resides in PA, just miles from where that high school cheer bus was parked.
Michelle has been an artist for as long as she can remember, always choosing pencils and crayons over toys and puzzles. As a freelance illustrator, her simple characters play the starring roles in numerous emergent reader books published by Reading Reading Books.
"Writing is my way of making sense of the world. When I give my characters life on the pages I write, it frees up space in my mind to welcome in new stories that are begging to be told," says Brownlow.
a Rafflecopter giveaway