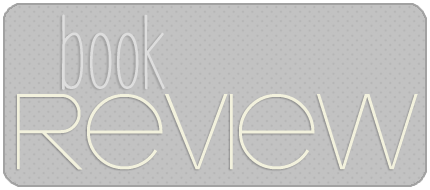 ...............................................
....................................................
....................................................
.....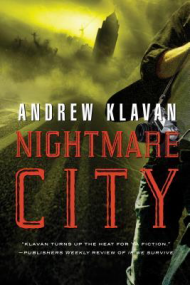 Title:
Nightmare City
Series: N/A
Author: Andrew Klavan
Pages: 320
Pub Date: November 05, 2013
Publisher: Thomas Nelson/HarperCollins Christian Publishing
Book Source: Publisher via NetGalley
My Rating: 4 of 5 stars

**POSSIBLE SPOILERS**
Meet Tom Harding: High school senior. Reporter for the school paper. School pariah.
After writing a story to out the schools beloved football team and their use of performance-enhancing drugs, Tom hasn't a friend in sight. But Tom is a reporter. Tom has never met a mystery he didn't want to solve. He is a seeker of truth. Truth above all else, even at personal cost.
The biggest mystery of Tom's life comes early on a Saturday morning.
Upon waking up, Tom immediately begins to experience the bizarre. For one thing, his mother should be home bustling about the kitchen making breakfast... but she isn't. She isn't anywhere to be found. Then Tom sees the mist outside his home. A white, rolling fog accompanied by an eerie silence. And there is an absence of people. No one around—not his mother, his neighbors, no one... Tom is alone. Except, he isn't. Deep inside the white mist, Tom sees figures. Not-quite-human figures hulking and shuffling... coming for him.
And the craziest part of it all?
Upon going back into his home, Tom hears a voice; a voice he should not hear. It's Burt, his brother. Down in the basement, Burt is rambling on and on about a "mission" and a "game" ... "play the bigger game, remember the mission..."
The problem is that Tom's brother has been dead for six months.
- - -
Okay, listen up people:
This book is freaking awesome!
I went into this read not knowing it was Christian Fiction. This is something that tends to hinder me from reading a book. My husband and I are constantly talking about this subject. Christian Fiction vs. what I read... which
isn't
Christian Fiction. But, he is a lover of all things Ted Dekker, Frank Peretti, Robert Liparulo, etc. He's forced many a book onto me, and I always end up loving them and admitting they weren't what I was expecting. So, after reading
Nightmare City
, I was again proven ignorant of Christian Fiction. It doesn't always have to be the preachy type of books I fear.
Moving on.
Nightmare City
is unlike any book I've read to date. It started out as one genre, and then morphed into something else. I will try not to be spoilery, but it's so hard due to the fact that the change in story dynamic is part of what I adored about this book!
From the very start, this book gripped me. It was eerie and scary. I don't recommend reading this book before bed time. You will totally end up with nightmares. I was creeped the heck out by the first half of this book. It's a perfect set-up. The silence, the dense fog, the creatures in the mist, the strange happenings—hearing his dead brother, seeing himself on the television, far-away, staticky phone calls—no rhyme or reason to anything.
And throughout all of this there is Tom, an amazing protagonist. Tom is completely lost and confused, but still has this burning desire to unravel the mystery before him. He takes chances and risks his own life to find the truth. He encounters a scant few people along his journey—some good, some bad—and never relents in his pursuit of answers.
When Tom finally
finds
these answers, it's nothing like what you'd expect. It's a shock and it turns the entire story upside down. You have to rethink your entire take on the first half of the book. I loved it! I
LOVED
that this book made me think so hard; made me feel so thoroughly surprised and dumbfounded. Think Mitch Albom, but scary, dark, and completely mysterious. This book will take you on a ride you won't soon forget.
So, this book has the setting, the characters, the horror, the mystery, and the intrigue.
Now let's talk about the message. In this scary, surprising novel lies a message. Truth is everything. You are never alone no matter how much it seems you are. Life is worth living, even when it's hard. You have to fight no matter what. Giving up is not an option. These are the things I took away from
Nightmare City
. And believe it or not, these things are very relevant to my current personal life situations. I am grateful to Andrew Klavan for writing this book and I am grateful for this message at a time in my life when I actually needed it.
Now, my one negative is that the dialogue was a little bit repetitive here and there. Minor detail, but it did irk me every now and then, and took away from my focus on the story.
All in all,
Nightmare City
is a brilliant story! It's dark and creepy. It's suspenseful and mysterious. It's hopeful and contains many messages and morals. I loved Tom Harding! He's a wonderfully endearing protagonist and a badass to boot. The mystery... oh the mystery. It was superbly done. Andrew Klavan is a master of details and a genius with plot. He easily meshes genres and keeps you on the edge of your seat from beginning to end.
I
definitely
recommend this book to anyone and everyone! It truly has a little something for all book lovers. :)

...............................................

....................................................

....................................................

.....
CLICK HERE TO VIEW THE TOUR SCHEDULE
PURCHASE NIGHTMARE CITY:
Amazon
•
B&N
•
Kobo
•
Books-A-Million
•
iBooks
•
IndieBound