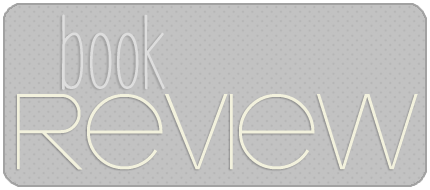 ...............................................
....................................................
....................................................
.....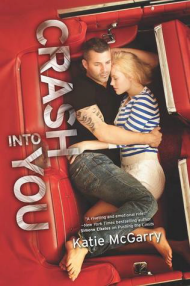 Title:
Crash into You
Series: Pushing the Limits #3
Author: Katie McGarry
Pages: 474
Pub Date: November 26, 2013
Publisher: Harlequin Teen
Book Source: Publisher via NetGalley
My Rating: 4.5 of 5 stars

**POSSIBLE SPOILERS**
Isaiah is broken and angry. His entire life has been a mess of abuse in the foster-care system and heartbreak at the hands of the girl he loved.
Rachel is the socialite daughter of a rich couple, and sister to four overprotective older brothers—one of which is her twin.
These two 17-year-olds should never have a reason to meet. They couldn't be from two more different worlds.
Except they share one love.
Cars
.
Speed. It's what I crave. I can race the emotions away.

Is it possible to outrun memories?
Isaiah and Rachel meet at an illegal street race. Isaiah is there because he needs money, and Rachel because she needs an escape.
But after the night turns sour, these two become unlikely partners in a getaway
and
unlikely allies against a street thug bound and determined to get his payback on both of them.
- - -
Let's dive right in, shall we?
Let's start with the characters. Isaiah. I have loved him since the first book in the series. He is badass, but soft deep inside where it counts most. He has this great capacity for love and devotion, but has had his one shot at letting it loose completely shot down. Who could blame the guy for being angry and closed off?
Rachel was harder for me to love (at first). She was slightly whiny and a little spoiled. I also hated that she hid so much of herself from her family. Eventually, the reasoning behind it became apparent and it thoroughly broke my heart.
Rachel has a sister she's never met. Because this sister is dead—died before Rachel was even born. Rachel's mother had two sons before she got her wish for another daughter. A replacement daughter. A daughter who forever lives in the shadow of her dead sister. This is so awful to me! I can't even begin to imagine the pain. So, Rachel grew on me. I wanted to cuddle her and take care of her.
Another issue Rachel deals with is panic attacks. This is where my .5 star deduction comes in.
I don't feel that McGarry portrayed panic attacks accurately. I have panic attacks and chronic anxiety. McGarry has Rachel constantly puking her guts out. I have had more panic attacks than I can count and have never
once
thrown up because of it. And they are bad—extreme to the point that I brought myself to the emergency room 3 times in 1 week because I thought I was dying. But again, I never even had the
urge
to vomit. Granted, not everyone with panic attacks experiences the same things, but I still feel the vomiting to the point of
blood
was overkill. But, in the author's defense, the average person doesn't have this problem and wouldn't bat an eyelash at the constant puking Rachel does.
So, moving on.
Isaiah and Rachel together. Oh, this romance topped the previous two in the series. Bye bye Noah and Echo, hello Isaiah and Rachel! ♥ They are my new favorite.
(
Side note: You can also expect to see lots of Noah and Echo in this book, as well as an appearance from Beth
)
These two teens are both desperate for love. Each in a different way, but desperate all the same. Once they get together, they cling on for dear life. They share a pain that is so opposite, yet so much the same. Isaiah has never been wanted in his life. He feels cast away and unloved. Rachel, on the other hand, has been stifled her whole life, but was only born to replace her sister. She feels invisible. She pretends to be someone she is not for the sole sake of making her mother happy.
Rachel's this brilliant flame blazing in the darkness.

I've always been the kind of guy that likes a fire.
Two invisible teens who end up being the light the other one needs so badly. Their love story is one of the most intense and beautiful I've read in some time!
This book has a street gang sort of theme. The underground racing scene plays a part in our two lovebirds meeting, and stays part of the story until the end. Without spoiling it, there is basically a street thug who plans to destroy them for humiliating him at a race. They have to come up with a ton of money or the unthinkable will happen. This element kicks the story up a notch. It sets a thrilling pace and makes for quite the page-turner. I also feel that this part of the story was done very realistically and not too over-the-top. It's just the right balance of shocking and believable.
I just want to highlight Katie McGarry's amazing ability to juggle so many characters so
flawlessly
. Between Rachel and her large family, Isaiah and his friends from various places, and the random bad guy characters... this is a lot to keep up with. They could all bleed together if not written well and distinctly. But as I think back to this book I can easily pluck each individual from my memory. Very impressive. :)
All in all,
Crash Into You
was a pleasure to read! It's a fly-by-the-seat-of-your-pants romance and a high-octane storyline. The characters are multi-dimensional and very memorable. Rachel and Isaiah are easily in my top three couples of the year. They have the most beautiful, yet angsty, dynamic I think I've read
all year
. It's a story of two teens who are afraid. Afraid of the past, the present, and the future. They both need saving, and they both lean on each other to make it happen.
Be ready for an onslaught of emotions and a thrill-ride of a reading experience. I definitely recommend this one (whether you've read books 1 & 2 or not)!

...............................................

....................................................

....................................................

.....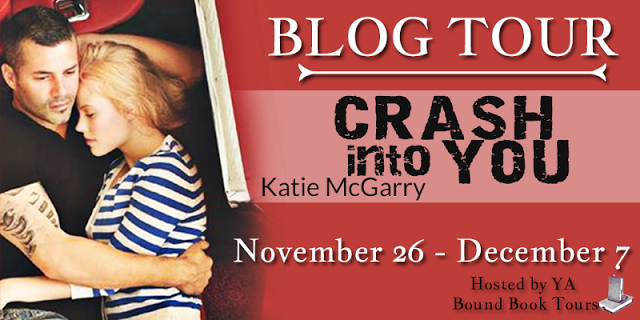 CLICK HERE TO VIEW THE TOUR SCHEDULE
PURCHASE CRASH INTO YOU:
Amazon
•
B&N
•
Kobo
•
Books-A-Million
•
iBooks
IndieBound
•
Book Depo
About the author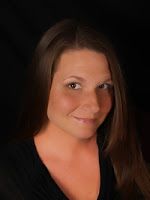 KATIE MCGARRY was a teenager during the age of grunge and boy bands and remembers those years as the best and worst of her life. She is a lover of music, happy endings, and reality television, and is a secret University of Kentucky basketball fan.
Katie would love to hear from her readers. Contact her via her website, katielmcgarry.com, follow her on Twitter @KatieMcGarry, or become a fan on Facebook and Goodreads.
a Rafflecopter giveaway