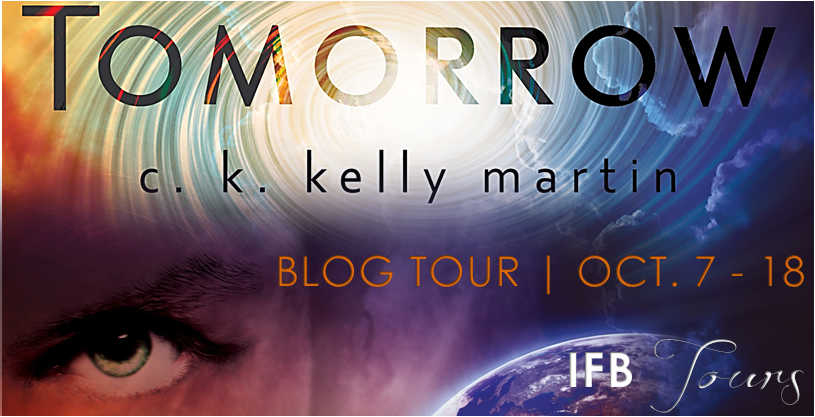 Hosted by IFB Tours
..........................................................................................................................................................

SEQUEL TO YESTERDAY
The sci-fi adventure that began with Yesterday continues with a thriller that can also be read as a standalone.
2063, United North America: climate change has rendered great swathes of the country uninhabitable, the rise of robot workers has created mass unemployment, eco-terrorism is a constant threat and a 2059 nuclear exchange between Pakistan and India has torn large holes in the world's ozone layer and pushed humanity's existence towards a cliff.
Garren and Freya have managed to escape that nightmare world and lose themselves in 1986 Vancouver. But the future's reach is long, and they're no longer safe there. No one is. Shadowy forces are intent on influencing the past's path. And when Freya is taken, it's up to Garren to save both her, and the future.
* * *

Age Group/Genre: Young Adult, Science Fiction, Time Travel
Purchase

Yesterday

: Amazon • Kobo Purchase

Tomorrow

: Amazon • Kobo

..........................................................................................................................................................




with C.K. Kelly Martin
LM:
What was your inspiration for writing the YESTERDAY series?
C.K.: Environmental changes we've begun to experience due to our abuse of the planet was the main inspiration. Most experts believe we've already reached the tipping point – that we've passed the point where we can stop climate change. But we can still limit changes, and we need to do that now or we're all in for a world of trouble. Thinking about this enormous issue, I imagined what would happen if we could have a do-over. If we don't alter our bad habits soon and our failure to do so leads to future catastrophic change, would witnessing the damage we've done cause us to do things differently if that was within our power? So I set Yesterday and Tomorrow in the 80s, allowing the possibility of that second chance.
LM:
Was there anything more challenging in writing TOMORROW than YESTERDAY?
C.K.:
Two big things: writing from Garren's point of view instead of Freya's like I did in Yesterday (I knew her better so the challenge was getting better acquainted with him) and the faster pace of Tomorrow compared to Yesterday, which is very different from the pacing in my contemporary books.
LM:
Entice us into reading this series Twitter-style—140 characters or less!
C.K.:
Time-traveler refugees Garren & Freya aren't safe in 1986 Vancouver. No one is. When Freya is taken, Garren must save her, and the future.
LM:
Describe your main character, Freya, in just three words.
C.K.:
Resourceful, intelligent, persistent
LM:
And three words to describe Garren?
C.K.:
Humanistic, intelligent, loyal
LM:
Will you share with us one of your favorite quotes or scenes from TOMORROW?
C.K.:
A lot of them would be spoilers so I wanted to pick something from fairly early in the book. There's a bit at the end of chapter one which I'm especially fond of. Garren is ruminating on his feelings for Freya and I believe his thoughts are ones that anyone who's been in love can probably relate to:
"…now that I'm with Freya it's tricky to remember the past exactly the way it was instead of how I'm tempted to see it in the present. My head wants to insert feelings where there might not have been any because I know what came later.
Love isn't linear. It moves backwards too. Like time, as it turns out. I didn't think I loved Freya Kallas in 2063 but now there's a part of me that feels as if I always have."
LM:
If you could time-travel, what era would you most want to experience, and why?
C.K.:
My ancestry is more Irish than anything else. I've had a deep affinity for the place for decades. Although I didn't grow up there, whenever I'm on Irish soil I have a feeling in my bones that I'm home. I'd love to go back to Neolithic Ireland when Newgrange (which predates the Egyptian pyramids and Stonehenge) was built and observe more of the culture firsthand. I find it amazing that they could not only build such a complex structure 5000 years ago but that they possessed the engineering knowledge to allow the sun to illuminate Newgrange's chamber on the winter solstice.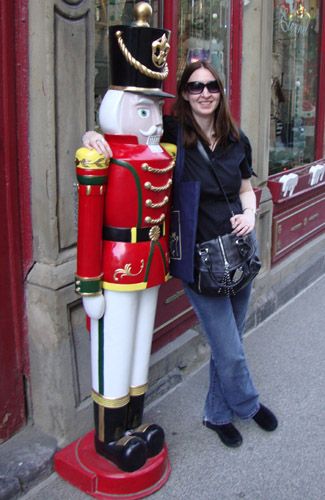 Hanging out in Montreal
LM:
Tell us what you enjoy doing when you aren't writing!
C.K.:
I really like spending time by the water (usually Lake Ontario or the Irish Sea because I spent more of my time in Ontario and Dublin than anywhere else). Also hiking, going to the theatre (there's a great Toronto theatre company called Soulpepper that I frequent), reading and continually redesigning my website and blog.
LM:
Would you say you've learned any valuable lessons from the publication process?
C.K.:
I had no idea how things worked behind the scenes when I was first published – how many rounds of copy-editing a novel goes through, for example, or how a book cover is created (how much influence sales and marketing have on the final product, for better or for worse). So the entire process was a series of lessons, really. Last April Agent Rachelle Garner wrote a very insightful article called 'When the Sales Guys Run the Company' (http://www.rachellegardner.com/2013/04/when-the-sales-guys-run-the-company/) and I do think we're at a point in traditional publishing where that's a growing problem with larger publishing companies. Publishing is evolving so quickly that I've realized authors have to be willing to evolve. Five years ago I would never have thought about releasing a novel on my own but after putting out my new adult book, Come See About Me, last year, releasing a Yesterday sequel myself seemed very do-able.
As far as writing itself goes, working with editor Shana Corey at Random House was a delight. She taught me so many things including how to be more succinct and the importance of pacing. How you can cut away at certain parts of a manuscript without losing anything crucial, and how that can actually make your book stronger.
LM:
What is the best piece of advice you've ever received?
C.K.:
This isn't advice that was personally directed at me but I'm enormously inspired by the following Billy Bragg lyric from Waiting for the Great Leap Forwards: "When no one out there understands, start your own revolution and cut out the middleman." That call to activism can be a positive guiding force in so many situations.
LM:
Tell us an odd or random fact about yourself!
C.K.:
In Vancouver 1986 (Tomorrow's setting) while at Expo something unusual happened to me. Nothing of any importance, but I was in the Canada Pavilion with my brother and my dad, watching a 3D movie about Canada when a goose flew by. It looked amazingly real – like you could put out your hand and touch it – and my dad said something like, "Wow, excellent 3D." The weird thing was that I'd dreamt of that moment months earlier. Seeing the goose fly by in the dark and my dad commenting on the 3D. And I'd dreamt of it before knowing we were going to Expo, let alone having any knowledge about what kind of stuff we'd see there. I have no idea why I'd have precognition about an event that had no real significance but I'm still intrigued by it.
LM:
Thank you so much for answering my questions today! Is there anything you'd like to add?
C.K.:
In American movies and television we often see Vancouver and Toronto 'playing' U.S. cities. It's fun to catch glimpses of Toronto's King Street or see the Vancouver Public Library acting as Fringe Division headquarters and numerous other spots. But I love when we get to see Canadian locations just being their genuine selves, so I set Yesterday mostly in Toronto and Tomorrow largely in Vancouver (and Seattle). Also, this will be my first novel published in Canadian English rather than American English. So I'm reclaiming all the U's in colour, behaviour, neighbour etc.
Thanks for having me on Literary Meanderings to talk about Tomorrow, Sarah!
.........................................................................................................................................................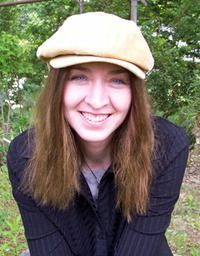 C.K. Kelly Martin always thought she'd get around to writing in earnest eventually and began writing her first novel in a flat in Dublin, finishing it in a Toronto suburb. By then she'd discovered that young adult fiction felt the freshest and most exciting to her. You have most of your life to be an adult but you only grow up once!
Martin currently resides near Toronto with her Dub husband. She became an Irish citizen in 2001 and continues to visit Dublin often (although not as often as she'd like!) while working on teen novels.
You can find C.K. Kelly Martin here:
.........................................................................................................................................................
Mega thanks to C.K. Kelly Martin for answering my questions so thoughtfully today! :) ♥
Readers, continue on for giveaway details! ~

a Rafflecopter giveaway
Thanks a bunch for visiting!