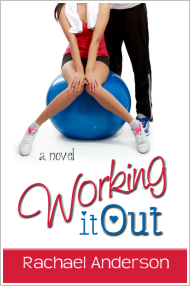 Title:
Working It Out
Series: None
Author: Rachael Renee Anderson
Pages: 262
Pub Date: July 15, 2013
Publisher: HEA Publishing
Book Source: From the author for review
My Rating: 4 of 5 stars
Grace Warren lives a mellow life. Some would even call it boring; mundane, if you will. She's a physical therapist—one of the very best in her field, but aside from that, her life mostly consists of taking care of her paraplegic brother.
Grace's life changes when she's convinced to attend a charity event to help out a friend. At this event, Grace is kissed by a complete stranger. A handsome, suave, great-kissing stranger—but a stranger all the same. Grace doesn't even care to get more than his first name as she storms out. She just tries to forget about him and move on.
Moving on turns out to be a pretty impossible feat when, not more than days later, Seth ends up in her physical therapy office due to a skiing accident.
And doesn't remember her.
Grace is beyond frustrated. He's gorgeous, sarcastic, and stubborn. Everything he says is suggestive. Everything he does makes her want to screech. And yet... Grace finds herself attracted to him.
Thus, their whirlwind of a relationship begins.
- - -
This was my first read by Rachael Renee Anderson, and I was insanely impressed! I had my doubts because I normally don't read clean romance, and when I saw that this was LDS Fiction, I went into it with even more reservation. Imagine my surprise when I ended up falling in love with this story and the characters inside it! I guess I was expecting it to be something it wasn't—I don't know what, exactly. Maybe lack of flair, spark, or excitement? No matter. I was put in my place! Working It Outwas fantastic!!!
The first thing that really stuck out with me was the romance, of course. I usually like my books down and dirty, which this book is very far from. And yet, it's now one of my most favorite romance stories. Anderson gave me intensity, she gave me sexy, she gave me electricity. Working It Out is a clean, fun romance, yet passionate and sensual at the same time. There are definitely some intense physical moments between Seth and Grace, but the focal point is their emotional bond; their connection aside from physical attraction. The author balanced it all out quite perfectly.
As a side-story, we learn that Grace feels responsible for her brother's paraplegia. When they were in high school, she was the one to convince her brother, Alec, to skip out on class one day and go skiing—a venture that ended in his accident and paralysis. This is originally what makes Grace take an actual liking to Seth. Upon seeing her wheelchair-confined brother, Seth immediately invites him to play wheelchair basketball with he and some friends. This turns into a beacon of hope for Grace; hope that her brother will come back out of his shell. So not only do we have a romance plot, but we have this familial healing as well. I very much enjoyed Alec's character and seeing his journey back to life.
Okay, before I go on, let me get to why I didn't give this book 5 stars. Grace. You see, Seth is into extreme sports. Heli-skiing, mountain biking, sky-diving, etc. Grace lives in fear that he will end up like Alec, paralyzed, or worse—dead. This is something she struggles with all throughout the book. She wants him to stop being so reckless, but doesn't want to ask him to change who he is for her. She battles herself constantly. My problem came in here. It began to get whiny and a little too repetitive for me. I may have even rolled my eyes at her a couple times. But it's really a minor detail when laid out next to the good things this story has to offer.
All in all, Working It Out is a winner! The characters are beyond lovable and relatable. The plot isn't too heavy, but not too fluffy. This would be a great beach read! It's about family, friendship, and love. It's about moving on and coming to terms. It's about seeing what's important in life and embracing it. It's about acceptance. The romance is clean, yet still passionate and emotional. I was very much moved by this book and I have no doubt it'll be the same for anyone else who reads it. And to top that off, there is a lot of humor and fun mixed into the story as well—so it had me laughing and smiling all over the place. It's an all-around great book. I recommend it to anyone who loves a good romance story. :)
...............................................

....................................................

....................................................

.....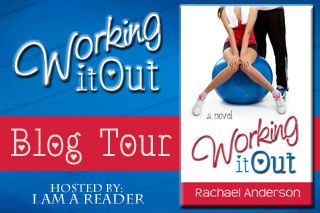 CLICK HERE TO VIEW THE TOUR SCHEDULE