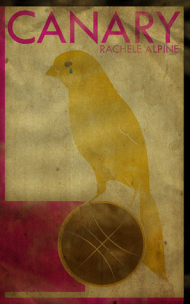 Title:
Canary
Series: None
Author: Rachele Alpine
Pages: 400
Pub Date: August 01, 2013
Publisher: Medallion Press
Book Source: From the author for review
My Rating: 4 of 5 stars
TODAY'S TRUTH:

Your life is about to change forever.
Kate Franklin lost her mother to cancer over two years ago. Since then, her remaining family has drifted apart. Kate and her brother, Brett, rarely even speak or to or even see their father. When he isn't working he retreats to his office and shuts the two of them out—literally
and
metaphorically.
"My brother, Dad, and I do the majority of our communicating using Post-it notes [...]

I'll find them stuck to the bathroom mirror [...] or on the kitchen counter [...]

If Brett or I need something signed or want permission to go somewhere, we'll leave notes in places we know our dad will be: the door to the garage, on top of his coffee pot, the bathroom or on his computer screen."
Kate doesn't like the direction her family life has taken, but things begin looking up when her father sits she and her brother down with some news.
As the new basketball coach at Beacon Prep school, it's a given that Kate and Brett's father wants to transfer them both there from their current high school. Brett is unhappy; Kate is ecstatic. Going to Beacon means starting anew. It means opportunities that weren't available before. It means leaving the past behind; becoming a new person.
Kate fits in at Beacon with complete ease. The popular kids adopt her into their group immediately and she even begins dating Jack Blane—one of the most coveted basketball-playing boyfriends to have.
But soon enough, Kate begins to see why her brother hates her group of friends so much; how the basketball players cheat, lie, and manipulate. They rule the school. They do what they want—to
who
they want—without consequence.
Kate finds herself on the receiving end of one such event, and telling someone about it means the downfall of the basketball team and maybe even her father's career.
TODAY'S TRUTH:

Those who once made you feel everything can make you feel like nothing.
- - -
Let's get the negative out of the way first, yes? :)
The plot moved a little slow for me. For about 1/3 of the book I found myself in that stage where I was wanting to skip paragraphs because it was becoming repetitive.
There was also a whole lot going on in this book. It was all woven together very well, but there was a bit about Kate's brother joining the military that I feel didn't really had to be there. I think the main purpose it served was so we could see how much Kate was still wounded inside and afraid from losing her mother. All she talked about was how her brother was joining the army and how she had a right to be upset or angry over it. I honestly think that bit was taken overboard. It could be because I am an ex-military wife and I've caught a glimpse of that life and it wasn't all that scary, to be honest. I started getting
really
annoyed with Kate over it.
BUT, small details, right? When I think of
Canary
, these aren't the things that stand out to me. The mix of verse and prose is something that
does
. You may be confused at first, while reading the pieces starting with "TODAY'S TRUTH"—these are blog entries by Kate. It's an online diary or journal of sorts. The verse is beautiful and very moving. I found myself wanting to quote every single one in my review! I definitely recommend the book on this alone! It really gave me a true sense of Kate and her personality. It also ends up being a key element to the story later on in the book.
Let's talk about bullying. If you know me at all, or have read my blog even just a few times, you will know what a huge deal bullying is to me. I was bullied in school for
years
. Each time I read a book with bullying at it's core, I get angry all over again. Although I am well past my middle and high school years at this point, I can still see and feel it like it was yesterday. In this aspect, I could relate to Kate. Rachele Alpine portrayed the pain and sadness that comes from being bullied very well. Then you have the indecision of whether or not to tell someone. If you've never been bullied then you probably don't understand why someone would hesitate for even a moment to tell someone. And here is the sad truth: more often than not, it's overlooked, ignored, or doesn't yield serious repercussions. There is fear that things will just become worse for you, so you stay quiet. This is something Kate struggles with for a good portion of the book. Her experiences with the group bullying her and abusing her really touched me. I was so proud of her when she finally decided to stand up for herself.
Which brings me to my next bit. Kate's father.
OH. MY. GOSH.
Deep breath... I wanted to pummel this guy senseless! I don't want to have any spoilers in my review, but when Kate comes to her father with the truth about his precious basketball team, he pretty much tells her that
she
is the problem and that she needs to
stop
being the problem. He gets angry with her because her standing up for herself could put his job as basketball coach in jeopardy. After an argument, he promises to make it better and never follows through. This is the part of the book that moved me the most. Sadly, it wasn't a happy or proud feeling. I was so angry I wanted to spit! I cried. I was so
hurt
by what Kate's father said and did to her that I didn't even know what to do with myself. I became very invested in Kate and the outcome of her experiences that I honestly felt like her father physically slapped her and I both in the face. Redemption does come, but in my opinion it's too little, too late. Either way, the point of me saying this is that it was just
so so so
easy to get into the book and to feel what Kate was feeling and to be in her shoes. Rachele Alpine brought these characters to life. They are multidimensional and literally jump right off the page.
And last, the ending.
Canary
ends in a way that has the potential to make a reader want to throw their book or e-reader across the room. It's very abstract. I had to sit on my rating for a bit because I wasn't sure if I was happy with it or not. In the end, I decided I loved that things were left the way they were. We don't get to see how the bullies are punished. We just get to see that Kate comes out, tells the truth, and takes a stand. We don't see the ramifications for what Jack, Luke, and the others have done. After giving myself some time, though, I realize this is how the ending
should
be. Taking a stand and telling the truth should be done with or without assurance that something will be done. I wish I'd had this insight myself when I was in school, but hindsight is 20/20, right? Standing up for what you believe; for what you think is right, should be an absolute given. I think Rachele Alpine ended this book on a 100%
perfect
note. I see what you did there, Rachele. ;)
All in all,
Canary
is a must-read for teens and lovers of YA fiction. Although slightly repetitive at times, the story has potential to touch you emotionally and bring you great insight into bullying and being bullied. I think this book can show teens that standing up for yourself is a must—and as soon as possible. Don't wait, don't worry. Just come forward. If enough people speak out then schools, teachers, parents, and communities as a whole will have no choice but to take definitive action against bullies.
Someone has to be first, so why not you?
Canary
also gives an in-depth look into family life and dynamics and how they can be effected by things such as a death in the family, a family member joining the military, changing schools, moving out, etc. It highlights both negative and positive changes and how different people cope with these things. It's an emotional roller coaster from page one until the very end.
I recommend this book for everyone. I think it's fantastic and I am very impressed with this author. I hope to see more from her in the future!
...............................................

....................................................

....................................................

.....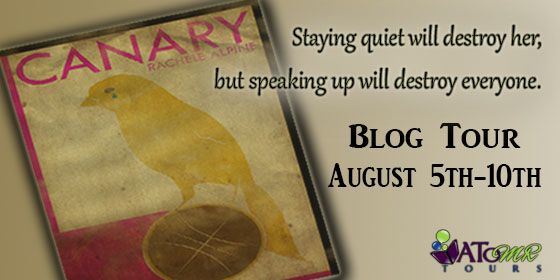 CLICK HERE TO VIEW THE TOUR SCHEDULE
Purchase Canary:
Amazon
•
B&N
•
IndieBound
•
Kobo
•
Book Depo