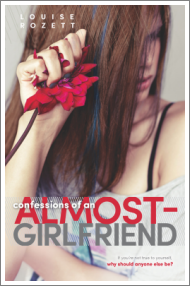 Title:
Confessions of an Almost-Girlfriend
Series:
Confessions #2
Author: Louise Rozett
Pages: 288
Pub Date: June 25, 2013
Publisher: Harlequin
Book Source: NetGalley
My Rating: 4 of 5 stars
*May contain spoilers for Confessions of an Angry Girl (book one)*

Confessions of an Almost-Girlfriend picks up not long after its predecessor. Rose Zarelli has her best friend back. Her mother is making her as angry as ever. Jamie hasn't spoken a word to her all summer. And now it's time to head back to school for her sophomore year.

Rose has hopes of this year being better than the last. During her freshman year she was dubbed with an awful nickname and harassed for calling 911 during a party.

The year gets off to a bad start when the guys on the swim team bully their newest addition at an end-of-summer party. Rose witnesses the act and, upon coming forward, opens herself up for another year of being harassed for trying to do the right thing.

So much for her plan of keeping a low profile.

- - -

I enjoyed this book about as much as the first. I loved most things about it, but was irked by small details.

For example: the party. The book opens up to the party. Rose and Tracy are there together. Rose is witnessing the swim team's new guy (Conrad, brother to Regina—Jamie's ex) being bullied. She chocks it up to "hazing" in her head, trying to rationalize why she isn't helping. The guy is being called homophobic slurs and is nearly drowned in the pool and with a garden hose being practically shoved down his throat. I mean, it's clearly more than just verbal bullying. And yet, Rose still struggles. I understand that Rose is only 15-going-on-16, but I honestly think it took the girl much too long to try and do something. I mean, she literally waited until she thought the kid was dying on the bottom of the pool to make the decision to jump in and help him. I feel like it came too late. When it's time to come forward about it later, she still hesitates. She isn't afraid of being harassed or bullied herself, but of not being popular or likeable due to ratting out the swim team. I don't like that sort of reasoning.

The point I am trying to make is that this part of Rose's character made it harder for me to like her.

On the positive side, it is clear that the author did this for a reason. This book is all about Rose growing; coming into herself. Realizing that she doesn't need someone else to be happy, whether it be Tracy, Jamie, her mother, etc. She is responsible for her own happiness. We see her grow right before our very eyes. This is definitely my favorite part of the book.

It begins with Jamie.
"Who said I didn't like you?"
"You did. You sent me a note that didn't explain anything, and then you ignored me all summer. And tonight, you didn't even say hi. You pulled me out of the pool, but you looked mad. And on top of that, you still didn't talk to me. That means you don't like me. Actually, what it really means is that you don't respect me. And if you don't respect me, then I don't have any time for you."
She calls it Rose Zarelli version 2.0

Not only does she tell Jamie how she really feels, but also her mother. Her mother is still angry about the fact that Rose put up a memorial website for her father who, if you remember, died while doing work in Iraq. The website was something that helped Rose cope, helped her get through the pain of loss and feel like she was doing something meaningful for her father. Rose can't wrap her head around why her mother hates it so much. She and her mom go to therapy sessions together and eventually find out the reasoning behind it. Rose slowly realizes that she's being selfish and does something about it. Yet another growth for her as a character.

Another element to this story is Rose's brother. Peter. The brother who asked Jamie to look after her while he was away at college. Peter is taking a different route through his pain. Instead of being angry at the world like Rose, he's immersed himself in drugs. Rose is just plain angry at first, but again, she realizes that Peter needs help. He is in pain and chose the wrong outlet for it. She becomes the supportive sister that she should be.

This book is centered around Rose becoming her own person, and I applaud that.

I loved watching her journey into confidence. She wants to be a singer, and ends up getting a chance to do just that. I love that the author made her into this sort of edgy rocker-esque girl instead of a pop princess. Nice going, Ms. Rozett!

In the background of Rose growing into maturity, there is a serious side-story going on. Regina, Jamie's ex-girlfriend, one of the sources of Rose's awful freshman year, is going through something. Her father is abusive, and her current boyfriend isn't so nice either. Jamie is constantly focusing his attention on Regina for this reason. There is a surprise to this plotline that I won't spoil, but it's a big deal and when Rose finds out, it changes things. I appreciate authors who tackle hot-button issues like abusive relationships - whether it be between a couple or a father and daughter, etc. These things aren't going to go away by being swept under the rug. They need to be put out there, plain and simple. People need to be more conscious of issues such as this.

The romance factor, while not the focal point of the story, is still there in this book. It's intensified by Rose's anger toward Jamie. The author really turned up the heat in this installment. I felt like we were hitting New Adult territory almost. I loved it. I loved the passion between Rose and Jamie. Don't worry, there's nothing X-rated, but Rozett definitely amped up the sexiness a bit.

Overall, this book is a winner! It's a fantastic follow-up. It's a milestone. Rose is an inspirational character in the way that she grows up so much in this book. She lets go of some of her anger and replaces it with determination to be the best she can be and not let anyone hinder her from her dreams. She isn't without flaw, but that makes her journey all the more impressive. The storyline is deepened, and even more characters introduced. The pace was great. The author gave us a bit of everything: romance, humor, emotion, inspiration, and immersion into tough (but also very relevant to current society) subjects such as domestic abuse and bullying.

In the end, this book was all about Rose embracing herself. She moved on from some of the petty worries of a 15-year-old and into the outskirts of womanhood.
"It's me. This is what I want. This is who I am.
And I am finally here."
I feel so proud of her. :) I definitely recommend this series to teens and adults alike.

*This book does contain some harsh language and slightly sexual content.*
...............................................

....................................................

....................................................

.....

CLICK HERE TO VIEW THE REST OF THE TOUR SCHEDULE