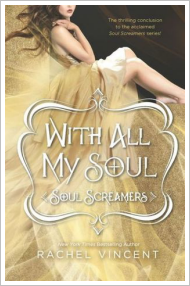 Title: With All My Soul
Series: Soul Screamers #7
Author: Rachel Vincent
Pages: 384
Pub Date: March 26, 2013
Publisher: Harlequin Teen
Book Source:

I bought this sucker the second it came out! ♥


My Rating: 5 of 5 stars
*This review WILL contain spoilers for pretty much the entire Soul Screamers series (including this book). There is no "possible" about that. This is your warning! DO NOT continue if you are worried about spoilers!*

With All My Soul is the story of Kaylee Cavanaugh's final stand.

Kaylee, her friends, and her family have battled the demons of the Netherworld for far too long. In this final installment of the Soul Screamers series, Kaylee decides that the time has come to end the fear and pain once and for all.

Kaylee knows this cannot happen without making astronomical sacrifices on her own part. But we all know Kaylee...
"This isn't a happy-ending kind of world we live in. Nothing comes without a price, and someone has to be willing to pay."
She is ready and inclined to do whatever it takes to save the people she loves.

- - -

God, where do I even begin? I finished this book on April 7th. I had to sit on my review for a month, and I still don't know what to say. Words just don't seem adequate enough to express what I feel for this series as a whole.

Back in 2009 (before I ever joined Goodreads or became involved in the online community of book bloggers and readers) I worked at a Kroger grocery store (I still do, but a different store) and randomly decided to browse the book section while on break one day. I came upon three books with gorgeous covers that caught my eye immediately. After picking up My Soul to Take (book one), I decided it sounded good enough for me to buy all three of the books, so I did. At the time, I had no idea I was in for a whirlwind of a series. I had no idea that Soul Screamers would become my all-time favorite YA series. And it has. I read all three of those books, back to back. I sat on my little loveseat for hours and hours, completely engrossed in Vincent's 100% unique world of banshees and Netherworld demons.

Now here we are—the final book. What a book it was.

The first thing I'd like to talk about are the characters. My last impressions of them, to be exact. I guess beginning with Kaylee would be the best way to go. :) Kaylee Cavanaugh. It seems like just yesterday I was reading that very first scene with Kaylee and Emma waiting it out in the cold, outside that nightclub. It seems like just yesterday that Kaylee walked into that nightclub and first spoke with Nash. It seems like just yesterday that Kaylee didn't even know who or what she was. Kaylee has come such a long way. She was insecure, timid, and scared. She had no idea of the preternatural world she was living in and a part of. She journeyed through months of pain and torture to get to the point she is standing at in With All My Soul. Her mother died when she was a child. She found out that she was the one who was meant to die; that her mother took her place. She battled with pain and guilt. She fell in love. That love turned to something ugly and unhealthy. Again she battled within herself. She learned that it was okay to let go; that it was okay to move on. Kaylee realized what was right in front of her—a love so great, so all-consuming that the realization of it shook the very foundation of her world. Tod Hudson—brother to Nash, son of Harmony. A reaper with eyes only for Kaylee. Tod... a boy who selflessly, unflinchingly gave his life to save someone else's.
"'I want all of you. Each individual part and the sum of them all. I want you for everything you are and everything you will ever be. I will never have enough of you, because there's no such thing.' He stared right into my eyes, and I couldn't have looked away if I'd wanted to. I was trapped, and never in my life had I been so happy to be caught. 'I will never let you go again.'"

"And the beauty of being dead and in love is that you don't have to come up for air."
The one thing that Kaylee has always been is selfless. She has always been the first one to run head-on into danger if it meant saving the life of someone else. She is everything a heroine should be.

Same thing goes for Tod. Tod is everything I could ever ask for in a hero. He's just as selfless as Kaylee, if not more so. He is dedicated to her in a way that awes me. I find their love story to be one of the most epic I've ever encountered (fiction or otherwise), and this final installment of the series sets that devoted love in stone. If you were hoping for a Kaylee/Nash reunion, you'll be disappointed.

Frankly, Nash is a character I was not able to forgive in the end. I don't feel as if he truly did anything to redeem himself. Even through this last book, he still made jabs at Kaylee. He insinuated that she is at fault for his addiction to Demon's Breath. He insinuated that she was wrong not to sleep with him while they were a couple; that it was something she should be sorry for. He seemed unrepentant for the grotesque things he did to Kaylee while she was possessed by Avari. I guess every book needs someone like Nash, but it's still sad that he didn't do much in the way of redemption.

Sabine and Emma were great. I enjoyed seeing Emma's experience with being in Lydia's body. I am satisfied with the outcome of her story as well as her sister's. I am also satisfied with the role Sabine ends up playing. She is a begrudged friend to Kaylee. She is forever snarky and crude, but I ended up loving her all the same. Her soft side does shine through for brief moments in the story, and I am thankful we get to see that side of her. She sneaks right up on you with an emotional speech to rival all emotional speeches. She ends it with a jab, of course, but that's our Sabine!

The villains are as villainous as ever. No complaints there.

Even in the final installment of the series, Vincent introduced us to some new characters (evil ones, mainly). I will leave that part a mystery. ;) One thing I love about the Nether demons is that Rachel modeled them after the seven deadly sins. It was subtle, and never pointed out directly, but something that most people would recognized. I think it was an interesting element to the series.

The most important thing in a finale is tying up the storyline. Rachel Vincent ended this series with a bang. After keeping her readers happy with six books that completely and utterly thrilled and amazed us, she was still able to deliver a finale to surpass them all. Vincent has consistently surprised me with her plot twists. I never see them coming, and they are always outside of the norm. She weaves completely unique and fresh ideas into her plotlines, thoroughly overwhelming and impressing me. The stakes are at an all-time high in WAMS, and so is the anticipation of an electrifying conclusion. I'd say Rachel did a top-notch job! From Kaylee's plan to conquer the demons by pitting them against one another, to her super-secret plan to save everyone in her life at her own expense. And not only is the climax astounding, but loose ends are properly tied off. Vincent makes sure to conclude each and every issue in the series. I am still holding out hope for some sort of spin-off, but it seems the chances are slim with everything being tied up so nicely.

Still... a girl can dream. And beg. And plead. PLEASE, RACHEL! PLEASE!!! Give us more! Throw a gal a bone! PRETTY PLEASE? With a cherry on top? :D

All in all, this finale was everything I hoped it'd be and more. WAMS was an emotional roller coaster. I was happy and sad, angry and hurt, scared and relieved. I was 100% satisfied with how things turned out. I will forever remember this series. The characters are some of the most memorable out there. They are beyond multidimensional and well-written. To me, they are real. I feel so connected to them that saying goodbye to this series is like saying a final goodbye to an old friend or family member. These books became a part of me. I will forever be thankful to Rachel Vincent for bringing this series to life.

The romance is as epic as ever. Kaylee and Tod were inevitable from the start. Their love is all-encompassing and true. It's beautiful and passionate. It transcends life and death. It's eternal and magical. I am truly happy that these two ended up together. Literally forever. ♥ If any fictional couple deserves a HEA, it's them. And while the journey to get there was full of obstacles, the road ahead is nothing but smooth-sailing.
"I pulled him close and whispered into his ear. 'I need you to trust me, even after I'm gone. Even after you've forgotten all of this. Do you trust me, Tod?'
'With everything I have and everything I am. With all my soul.'
I lost control of a sob. Just one, and Tod kissed the tears from my cheeks.
'And would you wait for me, if it came to that?'
[...]
'Until the end of time. Love doesn't expire, Kaylee. And love never, ever dies.'
With every last beat of my heart and every single bit of my own soul, I hoped that he was right."
I can feel myself stalling. I feel like this review is my last bit of interaction with my beloved characters. I guess it's time to wrap it up!

Vincent throws you into a sea of pain, love, hope, and self-sacrifice. With All My Soul will grab hold of you from page one and hold onto you well beyond the last page. This is a book that will stay with you always. I applaud her for not taking the easy way out. I've read a couple reviews where people said the ending was a cop-out, but I wholeheartedly disagree. I think Rachel took this series to an entirely new level with the finale. I think she gave us an ending that was unexpected and truly outside-the-box. It would've been much too easy to just throw the characters into a cliché situation where they come out on top and no one gets even a scratch in the process, but she didn't. Instead, she threw her readers for a loop, surprising us with the final pieces of this story. I loved this ending. I honestly feel that it couldn't have happened any other way. Vincent stayed true to herself and her story. The message that things happen for a reason, and that some tragedies cannot be undone, is still there. There is a price to pay for everything.

My last words to you (if you made it through the mess of rambling I am calling a review) are: If you haven't read this series, do it now. If you read it and didn't like it... well, you are a poor soul. I will recommend this series until the end of time, and I stand by my opinion that this ending was the perfect one. You'll laugh, you'll cry, you'll fume, but by the end you will be in awe of Ms. Vincent. :)

I hope every single person who reads this series loves it just as much as I did.

(And if Rachel decides to do a spin-off, I will be the first in line to pre-order the book. *puppy-dog eyes*)
............................................................................................................................................................