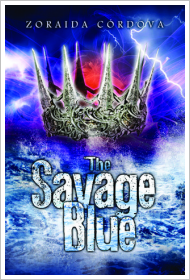 Title:
The Savage Blue
Series:
The Vicious Deep #2
Author: Zoraida Córdova
Pages: 416
Pub Date: May 07, 2013
Publisher: Sourcebooks Fire
Book Source: NetGalley
My Rating: 4 of 5 stars

*This review may contain spoilers for The Vicious Deep (book 1)!*

The Savage Blue picks up right where we left off in The Vicious Deep.

Tristan and his diverse troupe of supporters & friends are still in the midst of the Sea King championship. Tristan holds one piece of the trident and is on the hunt for the oracles who hold the other two.

But time is not on their side.
"It's happening," [...] "Now that the trident is broken, the king's seal is loosening."
Sea demons and long-banished creatures are slithering from the depths of the ocean, ready to attack and devour everything in their path.

Then there's the ever-present threat of the silver mer-witch, Nieve; the mermaid who is raising an army to take over the entirety of the seas—and plans to claim Tristan for herself.

And so, in a race against the clock, our characters journey to places both magnificent and terrifying in order to try and save both merfolk and humans alike. Tristan and his friends will learn secrets long forgotten, and hear prophecies that scream hopelessness. Trust is broken, friends are lost, and the fight to become Sea King shifts into something scarier than Tristan could've ever imagined.

- - -

Oh my lord. Zoraida has floored me with this sequel!

My only negative is that there was a lack in refresher information. It took me several chapters to remember some of the events and from the first book. This could be a potential issue for not only people like me who have pretty awful memories, but for someone who may pick up this book without realizing it's part of a series. They'd be completely lost. I don't need a bunch of info-dumping, but a little bit of a refresher would've been fantastic.

Aside from that, I have lots of fangirling to spread around!

First of all, I have to applaud Zoraida Córdova for writing a series that doesn't revolve around romance. Yes, there is a romantic element to the story, but it is not at the forefront of the plot—it's not even secondary. To me, this makes the romance bits more high-impact and special once you do get to them. Those moments between Tristan and Layla are few and far between, but let's face it: sometimes less is more. These characters have a very special relationship. They are best friends, closer than can be. There's a muddled line between that friendship and something more—love and lust. Even when Tristan isn't around Layla, she never leaves his mind. Every woman is compared to her and, in his eyes, no one will ever be able to hold a candle to her. I am thoroughly happy with the fact that Córdova kept the action and fantasy elements center-stage, leaving the romance in the rear.

The characters are just as colorful and unique in this book as they were in the first. There are characters both old and new, and each of them is painted clearly through the author's words. They are multidimensional and full of personality. Especially Tristan himself. I have to say, as I did with The Vicious Deep, that I ADORE a male POV in Young Adult novels. It's funny that a female author has written one of my most favorite male POV novels out there. lol I mean, I have read some written by males that didn't feel as realistic. Tristan has quite the ego and is quite the ladies man, but his insecurities really come out in this book. He second-guesses himself many times, and wonders if he has what it takes to be Sea King. But even through his fears, Tristan is full of strength and determination. He is a very admirable character and I am absolutely in love with him. :)

Layla isn't present in too much of the novel, but when she is, her quirkiness and girly-stubbornness make for quite the impression. The interaction between her and Tristan is absolutely adorable and funny. Same goes for Tristan and Kurt. Kurt is the most hilarious character I think I've ever come across. Pair him with Tristan and you will have a barrel of laughs! I can't even count how many LOL moments there were in this book. It's definitely worth reading if even just for the hilarity Kurt brings to the table.

As for the rest of the characters, from the eccentric oracles to the nasty Merrows, they are all unique and memorable. This book is chock-full of paranormal creatures and elements. Monsters both in the sea and on land, dragons, fairies, vampires, shapeshifters, and of course the merfolk.

The storyline takes some drastic turns in this installment of the series. Tristan not only learns new things about himself and his family, but he learns who his true friends are. This book contains a boatload of broken trust and heartbreaking betrayals. It also contains new alliances and friendships. It's a wonderful balance! I don't want to throw out specifics and spoil the book, but the twists are very unexpected and have a huge wow-factor. It definitely leaves a gal eagerly anticipating the next piece of the story! Should you go out and pick up this book, I promise you won't be disappointed.

Along with her wonderful plotlines, Zoraida also has a beautiful way with words. Her words present you with a vivid picture and make it easy to fall into the amazing world she's created.
"Ahead of me, the girls have already shifted and I follow the gleam of their sparkling tails.

For miles, there is nothing. No fish, no stones, no boulders. No shadows of ships drifting above us. For miles, it's just swimming.

Kai leads the way. Her scales are a powdery green. The tips of her tail look like bursts of chiffon trailing along. Everything about her is grand and slender. Like watching a flower dance underwater.
Gwen, on the other hand, is a strong and fast swimmer. Her scales are white with splotches of black. Her hair is like a white cloud melting into water. Where Kai is delicate, graceful, Gwen swims with a confidence I recognize in myself. She even sings a wordless melody that fills the whole sea."
That's just one small piece that I particularly loved. :) It's magical. I could read her books all day long.

All in all, I was completely taken away with this book. The Savage Blue is packed with action and magic, creatures both beautiful and horrifying, love and betrayal, secrets, lies, revelations, and a never-ending supply of interesting and odd characters; ones you will love and ones you will hate. The villains are extra villainous and the good guys are the self-sacrificing type that we all love, especially our Tristan. Zoraida Córdova takes her readers from Coney Island to the darkest depths of the ocean, to places non-existent in the real world—all the while enthralling you with the enchanting, yet savage world she's created.

The Savage Blue is a top-notch sequel. The characters change and grow and so does the plot. The author didn't waste any time diving right into the story. It's incredibly fast-paced and comes to an insane climax with a cliffhanger ending. It's the cliffhanger to end all cliffhangers. One of those cliffhangers that could potentially make your readers angry... unless you're like me and enjoy a good cliffhanger. Way to go, Zoraida! ;) I, for one, will be coming back for more of Tristan and his journey! If you haven't started this series yet, what are you waiting for

?

............................................................................................................................................................