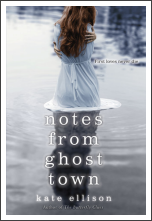 Title: Notes from Ghost Town
Author: Kate Ellison
Pages: 336
Published: February 12, 201

3
Publisher
: Egmont USA
Book Source: From the publisher
My Rating: 4 of 5 stars
My

R

eview:

*POSSIBLE SPOILERS*
"Think about a moment, a little centimeter of time you'd happily exist in forever, if time could be laid out along the spine of a ruler. Maybe it haunts you in that blue inch of half consciousness just before you're fully awake.

Here is mine: Miami, me and Stern. One week before I was supposed to go back to art school.

If I could stay there, in that moment before everything changed, I would stay there forever."
For sixteen-year-old Olivia, "that moment" is the last time she was able to see the world in color.

That day, her best friend in the world, Stern, kissed her for the first and last time. After their kiss, Olivia's world turned gray... literally. She stopped seeing color. Her biggest fear was that she was going insane just like her mother; her mother who used to talk about The Gray Space, the dead place.

Upon seeing her dismay, Stern takes it as a sign that he made the wrong move, and he leaves.

Olivia never sees him again because, less than a week later, Stern is murdered—and Olivia's mother is the put in jail for killing him.

Jump ahead ten months: Olivia is now an art school drop out with a mother who is about to go on trial for killing her best friend. She still can't see color, and no one else knows about it but her doctor.

Olivia couldn't care less about going out with friends, attending parties, or anything else. Unfortunately, her father forces her to attend a party for his job. Olivia ends up drunk on the beach. She goes into the water and loses herself; she begins to drown. Just when she decides to give up even trying to live, a set of strong arms are around her, pulling her to safety.

When her head is clear enough to take a look at her savior, she sees the impossible.

Stern.

- - -

Oh boy! I really loved this novel! I have to say I was surprised. I didn't enjoy Kate Ellison's first book, The Butterfly Clues, very much at all. I am sooo glad I gave this book a chance, because it was fantastic.

The only things I didn't like were: A) The nickname Stern gave Olivia. Liver. That is not cute. Ugh.

B) The word "crazy" was thrown around too much for my tastes. I don't like that word in the context it was used, and it was hard for me to get past my irritation of this small detail.

Aside from that, this book was a winner!

The first thing that grips you is Ellison's writing. She has a very poetic way with words and really knows how to weave a plot. This is a definite must when writing mystery! And what a mystery this was. Wow.

I was quite surprised by the depth of the plot. I was expecting something a bit more fluffy than what it turned out to be. It's a good thing, though! First of all, Olivia meets a new boy and has a bit of a romance with him. She finds out that this new boy is hiding something big from her. Another thing is the looming trial for her mother. Nine days away. Then there is the fact that Olivia can't see color, along with the biggest issue of all—Stern. Is she seeing his ghost, or is her brain not working properly? Olivia battles herself in the beginning. She denies that Stern is really there. She blames it on her own mind. She misses him and it's making her see things. Eventually, she can't deny it any longer. She decides that it is indeed the ghost of her best friend. After talking to him about the night of his murder, Olivia is confused. Stern tells her things that make her doubt her mother's guilt. She makes a decision to try and clear her mother's name. With the trial being so close, Olivia has to work fast. We follow her around and watch as she fits one puzzle piece together after another. Olivia becomes sure of her mother's innocence, but that leaves the question of who? Who would kill Stern, and why?

Olivia's journey to save her mother is told in beautiful, descriptive prose. It's an emotionally gripping novel. Olivia's life is heartbreaking. Her best friend is dead before she can tell him how she truly feels. Her mother is mentally unstable and accused of the murder. Her friends don't understand her. Her father is busy with work. Her life is on a downward spiral and she can't seem to stop it. She was a character I found easy to relate to. Her pain was palpable, as was her need for closure. I felt for her and I was truly connected with her and the outcome of her story. Stern, although not present it much of the book, was an impressive entity. Through Olivia's memories and inner dialogue, we really get to know who Stern is. We get to see how much these two friends cared for each other and how that friendship and companionship grew into true love. I think the romance was something done very well. Ellison took a unique route with this book. It wasn't a happily-ever-after, but it was a happy ending, if you look at it the right way. If you choose to read this, don't expect Stern to magically come back to life. He doesn't. He and Olivia don't get to skip off into the sunset, hand in hand. The story is ultimately about gaining closure, coming to grips with life's hardships, finding the truth, bringing forth justice, and examining human nature in both it's good and bad forms.

The mystery aspect was also very well done. Who doesn't love a good mystery?! Ellison gives us plenty of clues, but never actually gives anything away until just the right moment. The story moves at a fantastic pace, with each revelation placed in the perfect spot. I loved how many twists were put into the plot, as well as all of the clues hidden in plain sight.

I also want to mention the fact that Olivia's relationship with her mother is a strange, but beautiful one. Stern was also close with Olivia's mother. She was his piano teacher, and they had quite a bond. The whole triangle was very moving and I actually cried a couple times when reading pieces about Olivia's mother. The relationship between these three is a really big part of this story.

All in all, I definitely recommend this book! It's a well thought out mystery with a heartbreaking romance on the side. It's a story of friendship and family, of love and loss, and of murder and justice. It's packed with twists and revelations. The multidimensional characters are impressive and relatable. It's got an eerie feel to it, but it isn't scary. It's fast-paced and well-told. Ellison paid great attention to detail. There's an undertone of sadness to the overall story, but Ellison balances it well with the thrill of a well laid-out murder mystery, and a bittersweet ending that stands outside the box of what you generally see in YA fiction. This book is a real show-stopper! You definitely want to add this one to

your shelf!