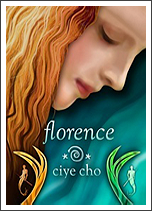 Title: Florence (Florence Waverley #1)
Author: Ciye Cho


Published: July 01, 2012
Rating: 4 of 5 stars

My thoughts: **POSSIBLE SPOILERS!**
17-year-old Florence Waverley is a loner. She spends her time watching others, but never being a part of anything. She doesn't even fit in with her own family. Her father died, leaving her with a rich, spoiled mother who pays someone else to take care of her own daughter.
Then, during a school field trip to the beach, Florence's life is forever changed. She swims out into the ocean to take some underwater photographs and ends up knocked out and kidnapped by a purple-skinned merman.
When Florence comes to, she finds herself in an entirely new world; a world beneath the ocean. Here, she learns all about the merpeople who snatched her away, all about the underwater kingdom of Niemela, and about the dangers that surround it.
- - -
This story was
so much
fun!
I like to talk about my dislikes first when reviewing a book. The problem I had with
Florence
is that it lacked some back story and explanation. For example, it's mentioned quite a few times that Florence can mysteriously speak the language of Niemela, but the reason
why
was never explored or brought to the fore. If this book is to be the first in a series, I can understand why certain explanations were left out or why a few loose ends were left untied, but if it's a stand-alone, this makes me unhappy.
The number one thing I loved about this book was world-building. I can't even
begin
to describe how amazing it is! Niemela is unlike any other world I've come across in a fantasy novel. I've read quite a few mermaid books and I can say with absolute certainty that this is—by far—the most vivid, fun, and intriguing. The author presents us with a fantastical underwater kingdom that's
filled
with colorful, lively merfolk with a huge array of personalities. Their world is nothing like the human world. It's like a well-oiled machine. Each and every merperson must have a place; a "life path". It's pure societal cohesion. Not only is this world magical and spectacular, it also has an entire history behind it. The author gives us an explanation of
how
it came to be, as well as how it all works in the present.
The characters were likable and fun. Florence was a wonderful protagonist. I find myself getting irritated by YA protags quite frequently these days. It was refreshing to love a character so thoroughly. She's selfless, caring, and brave. I really loved her. As for the merfolk, there are three we spend the most time with: Yolee - the one and only princess of Niemela. She's spunky, sweet, and artsy. Then there's Kiren - the prince who is about to be crowned king. He's a handsome charmer who harbors a deep, dark secret. Last, but not least, there's Rolan - a prince who gave up his rights to the crown after failing to protect his younger brother from the "Darkness" many years ago. He's moody, broody, and far too serious for his age.
All
of the characters are multidimensional and quite memorable.
Overall,
Florence
is a winner! It's the epitome of what I want in a mermaid story. It's magical. It's full of color and sparkle. It's original and creative. The characters are engaging. The villain is extreme. The world building is out of this
world
! It's simply a stunning story that takes place in a stunning world. It all comes down to a suspenseful final battle that had me glued to the edge of my seat. I definitely recommend this book to mermaid lovers, fantasy lovers, or anyone who enjoys a fun, clean, YA read. It's truly wonderful, and I
really really
hope there's a sequel coming. :)
- - -
Book source: Sent to me by the author for an honest review!