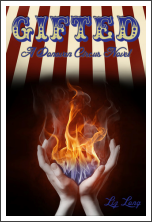 Title: Gifted: A Donovan Circus Novel
Author: Liz Long


Published: April 18, 2012
Rating: 4 of 5 stars

My thoughts: **POSSIBLE SPOILERS!**
Gifted
is the story of 23-year-old Lucy Sullivan. After the death of both of her parents, Lucy makes her way back to the only family she has left - the Gifted folks of Donovan Circus. Lucy was raised in the circus until her parents decided to leave so that Lucy could live a "normal" life.
As a Firestarter, someone who can create and control fire, Lucy has never felt like she could be her true self outside of the circus. It's a constant battle with her emotions. Lucy can't have a boyfriend, can't get too upset or too excited for fear that she'll burst into flames, inevitably letting humans know that Gifted exist.
Donovan Circus is full of Gifted of all sorts. Empaths, Earthshakers, Runners, Shapeshifters, Firestarters such as Lucy, and much more. These non-humans with amazing powers are a close-knit family all their own, and they accept Lucy into their world almost immediately. Lucy even finds romance within the group.
Everything goes perfectly until a murder occurs within the circus - and it appears the man has been killed by a Firestarter since he's burnt to a crisp. As Lucy is the new addition to the circus, and people hardly know her yet, the finger is automatically pointed in her direction.
As Lucy works to clear her name, she learns that the secrets and lies within the Gifted community run much deeper than she could have imagined - and that people she thought she could trust may be directly involved in the corruption.
- - -
I like to start my reviews by speaking about my dislikes first. I really had just one with this book, and it's one I find I have a lot within the YA genre. The protagonist was the object of too much male attention. I never enjoy it when a protag has too many guys falling all over her. Within just a day of being at Donovan Circus, Lucy has a gaggle of admirers, whether it be true interest or just guys looking to get in her pants. Then, the one and only time the group goes into town for drinks at a bar, a group of human men try to maul her as well. There were other girls in the group, but they had all their attention focused on just Lucy? Mmmm, don't think so. I am never a fan of that sort of situation.
Moving on!
The first thing I want to praise is the plot. It moved along at a wonderful pace. I was never bored or tempted to skim (which seems to be happening to me a lot lately - so thank-you, Ms. Long!). The action and paranormal elements were abundant. It's well-written. The world building is fantastic. There are
so many
beings and so many different
types
of powers floating around in this book that every chapter brought on a whole new element of greatness. There's also a thread of mystery to the plot that keeps you guessing; keeps you on your toes. The whole story was intriguing from the first page to the last.
The characters were engaging and likable. I enjoyed that Lucy wasn't
just
learning about her powers in this book. She knows what she is from the get-go; she grew up learning to hone her Firestarter skills. She may not know the full
extent
of what she can do, but I appreciate that the author didn't center the book around a young woman just learning that she is something more than human. That seems too easy, right? Anyway, I'm veering! Lucy was everything I enjoy in a protag. I liked her strength; her gut - her
oomph
, if you will! She hasn't had much experience with guys, so she had a little bit of a naïveté factor going on and I found that sort of charming. She isn't without flaw, which is what I like to see. She loves to use sarcasm as a defense mechanism and she can be a tad on the bitchy side. Basically: she is real.
The secondary characters were all enjoyable as well. Lucy's group of friends were all great in different ways. There are a lot of them, so I won't list 'em all. Trust me though, they're a fun lot. Lucy's two potential love interests, Keegan and Gabriel, were both likable, but for completely different reasons. Keegan is more of a wholesome sort of guy - sweet, caring, and dependable. Basically, he's the boy next-door. Gabriel is more
my
kind of hero - dangerous, unpredictable, and full of passion. He's the broody and tortured guy who needs some true love in his life. Both guys have potential and I'm truly dying to know which guy Lucy ultimately ends up with - yes, Ms. Long left us with a bit of a cliffhanger in the love department. Evil!
I also have to mention how much I enjoyed all the action in this book. For example: the final blowout, the climax - it was SO GREAT! It was
satisfying
. Too often I am left feeling like I got the short end of the stick ending-wise. It was really great to read a book that gives you closure and a substantial final stand-off. My adrenaline was running really high with this one, and it felt damn good. I wanted to bust out with a slow-clap by the end of it.
Adult content warning:
I feel it needs mentioning as this is in the YA category. It's definitely a YA book, but the characters are on the older side of Young Adult, so there is a whole lot of cursing (which, let's face it, is completely realistic). There is drinking & smoking, which is not bad since these characters are actually
of age
. So, unlike some other reviewers I've seen, I see absolutely nothing wrong with that. There's a bit of violence and a bit of sexual content - nothing very graphic, though. The language is pretty much the only thing I'd be wary of. I'd say 16+ age-wise.
Overall,
Gifted
is a winner! The plot is well developed, as are the characters. The paranormal aspect is unique. The mystery is edge-of-your-seat good. The romance is intense, but not mushy gushy. The writing is great and the story is purely fun. I definitely recommend this book! I can't wait to read more of Donovan Circus in the future.
- - -
Book source: From the author in exchange for an honest review
Publisher: CreateSpace