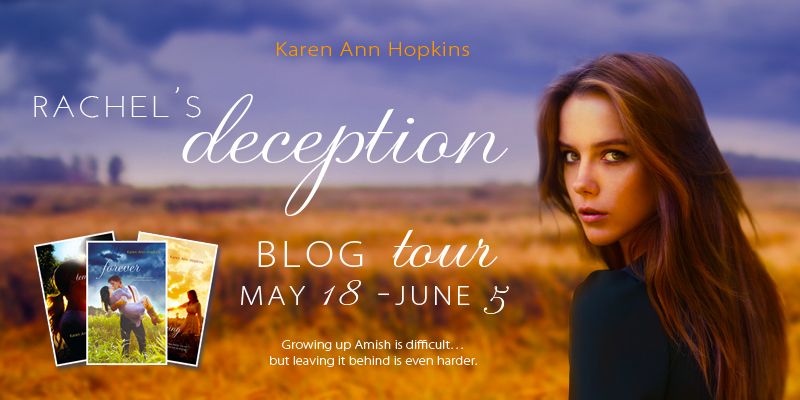 ..........................................................................................................................................................

TEMPTATION BOOK FOUR
Growing up Amish is difficult…but leaving it behind is even harder.
Noah was Amish...Rose wasn't. Being together should have been impossible. But somehow they found a way to make it work. They are finally a family, but their happily-ever-after is still a long off. Will Rose and her friends be able to force real change in the community? 
 Karen Ann Hopkins returns with a gripping new book in the YA Temptation series. The powerful family saga continues with Rachel's Deception, as events spiral out of control in the sleepy farming community of Meadowview. And Rachel Miller has her own secrets to hide. Noah's younger sister has been living a double life. That is, until Justin Cameron, Rose's little brother, catches her in the act. Rachel is not the obedient Amish girl that her sister was, and her rebelliousness takes her to a very dangerous world. A world that only her true friends can help her escape from. 
As Rachel questions all she has been taught about love, family, and commitment, Rose discovers what it really means to be shunned. And an evil shadow looms on the horizon, threatening not only Rose, but everyone she holds dear.
★
Age Group/Genre:
Young Adult, Contemporary
★
Publisher:
Harlequin Teen
..........................................................................................................................................................

with Karen Ann Hopkins
LM: 
Thank you for being a guest on my blog today! Can you begin by telling us a little behind-the-scenes story about Rachel's Deception?
Karen: 
It's wonderful to be here. Thank you for having me! The central plot in Rachel's Deception is that Rachel Miller, Noah's little sister, is living a double life. She sneaks out at night while her family sleeps, dresses up 'English' (non-Amish), and parties with her English friends. This might shock some readers, but it really does happen occasionally. I personally knew of several young people from the Amish community I lived in who did the exact same thing. One boy in particular, who I took to the mall with my own teenage sons one day, purchased an entire outfit of jeans, a t-shirt, and a ball cap. He met me at the food court an hour later dressed in the street clothes. I was at a loss for words.
LM: 
Will Rachel's Deception be told from multiple points of view, such as with the previous books in the series? If so, does Rachel herself take on the role of protagonist?
Karen: 
Rachel's Deception is told from alternating POV's between Rose, Rachel, and Justin. They all are major players and protagonists in the book. And all of their stories intertwine to tell a much bigger story.
LM: 
Did you draw from your real-life experiences when writing this book/series?
Karen: 
Very much so. As I talked about in the first question, I've personally witnessed Amish teens behaving in ways that most people wouldn't expect. The boys say curse words sometimes and the girls sneak listening to music. Both boys and girls may have secret cell phones, and many of them have an English friend who shows them a movie or plays a radio for them to listen to. I'm very careful to write about things that I've either personally observed, talked about with an Amish or ex-Amish person, or experienced myself. This brings a realism to my books that a lot of other Amish fiction doesn't really have.
LM: 
If you had to describe Rachel's Deception in just one sentence, what would you say?
Karen: 
It's a story about the trials of growing up.
LM: 
Can readers expect a good bit of romance from this installment in the series?
Karen: 
Yes of course! There's a lot of romance in this one, but it's a different kind of romance than Rose and Noah experienced in the first books. They're married now and their own relationship has deepened and matured. But Rachel, Justin, and Micah are much more reserved, cautious characters. Perhaps they've learned a lesson from witnessing all the troubles that Rose and Noah experienced with their fast and furious, whirlwind romance.
LM: 
Will you share with us one of your favorite quotes/scenes from Rachel's Deception?
Karen: 
Rose, Rachel, and Justin are all very colorful characters and it's difficult to pick one quote or scene. This one is very short, but it definitely sets the stage for the very menacing and suspenseful aspect of this particular book.
Levi's one eye sparked with madness, and he grinned. "I'm coming for you, Rose."
LM: 
What was the most challenging part of writing Rachel's Deception?
Karen: 
These characters all have a life of their own and revisiting the Meadowview Amish community was like coming home for me. But I must say that for all that, I did have a lot of research to do from my earlier books to refresh my memory. There are so many family members, siblings, and community members in the Amish world to keep track of. I had to make sure that I advanced everyone's ages properly and didn't leave anyone out altogether.
LM: 
Before we wrap-up, is there anything you'd like to add; anything you'd like to say to your readers?
Karen: When I finished Forever, I already had Justin and Rachel's story in my head. These characters wanted their own story, and even though I so desperately wanted to tell that story, I needed encouragement from fans of the series to put me into action. I'm so very thankful and grateful to have such wonderful fans who've inspired me to keep writing in this particularly beautiful world!
..........................................................................................................................................................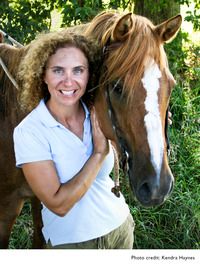 Karen Ann Hopkins resides in northern Kentucky with her family on a farm that boasts a menagerie of horses, goats, peacocks, chickens, ducks, rabbits, dogs and cats. Karen's main job is home schooling the kids, but she finds time to give riding lessons, coach a youth equestrian drill team, and of course, write. She was inspired to create her first book, Temptation, by the Amish community she lived in. The experiential knowledge she gained through her interactions with her neighbors drove her to create the story of the star-crossed lovers, Rose and Noah.
Karen grew up about a mile from Lake Ontario in Upstate New York. She was bitten by the horse bug at the age of five, and after diligently taking riding lessons for several years, was rewarded with her first horse when she turned eleven. The feisty horse's name was Lady, a Quarter Horse-Thoroughbred cross, who became Karen's steadfast companion. Through the years, the constant force in her life was horses. Eventually, she found her place as a riding instructor herself. Before accepting her fate in the barnyard, she worked a short stint as a paralegal, traveled abroad, and guided tourists on horseback riding tours in the Smoky Mountains of Tennessee.
Karen is currently working on her Amish mystery series, Serenity's Plain Secrets, along with the YA paranormal/fantasy series, The Wings of War. Karen is also excited to announce the Temptation series has been optioned for TV by Pilgrim Studios and is available on Audible. More books in the Temptation series are in the works.
WEBSITE • GOODREADS • FACEBOOK • TWITTER
..........................................................................................................................................................
Thank you so much to Karen Ann Hopkins for being a guest here today! :)
Readers, p
lease continue on giveaway details! ~